Dude, where's my Grand Theft Auto?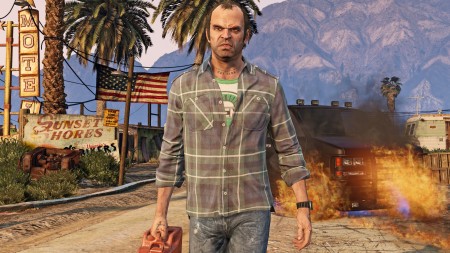 Well, if you've been patiently waiting for Grand Theft Auto V to arrive on the PC… you're going to be waiting a little longer. Yes, I know you've heard this one before, but bear with us. GTAV has been out on last-gen consoles for over a year, and debuted on the Xbox One and PS4 last Fall. The promise was that a PC version would have been along in January, but then that promptly got cancelled and shifted to late March.
And now? Now you'l be waiting till April the 14th. Not a terribly huge bump, but still more than a little annoying to this who've been begging for a PC edition of the excellent crime-epic since it first saw release. For their part, Rockstar Games has apologized for the delay, and said that they are well aware of the fan call for the game.
They're working hard at it though, and are making it the "most graphically and technically advanced version yet, fully optimized to support a broad range of current hardware (system specifications) and features a host of PC-specific enhancements including greater levels of detail, deep configuration options and ultra-high-definition support – as well as the powerful new Rockstar Editor for recording, staging and editing original custom videos."
Sound good? As a nice little bonus just for those who are so amped for the game that they've pre-ordered it, Rockstar will be throwing in an extra $200k in in-game funds for you to spend in the GTA Online game mode. So if you've yet to pony up and you already know that you'll be getting this one at launch, you might want to hit that pre-order now.
Source: MCV