You might be familiar with Square Enix' very cool line of DC Comics characters, and there's more to love on that front from last week's Toy Fair, but there's plenty more too with some cool gaming figures and the debut of their new Marvel Comics series.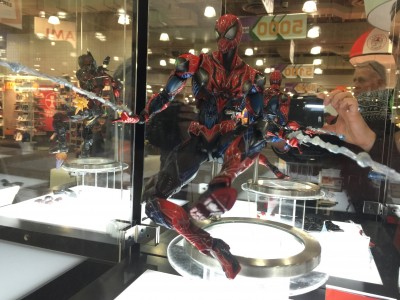 Seen first in some promo shots at NYCC last Fall, The new Marvel Variant series shows off some of the biggest heroes in the Marvel U, but reimagined by Square Enix. Starting things off will be heavy-hitters like Iron Man, Thor, and Spider-Man, all of whom look pretty awesome. And although he wasn't shown in-person, Venom is looking like a figure to keep your eye on as well.
As for DC, there was some great stuff on display there too. The Batman through the ages line is looking sharp indeed, as is the Arkham Knight series, which had one of my favorite figures of the entire Fair on display with the Arkham Knight himself.
There were also some great video game-themed figures shown in the booth including stuff from Final Fantasy and Metal Gear. Not that you'd expect anything less from the toy-making arm of Square Enix, but they're all awesome. Check 'em out in the gallery below.