As far as fictional characters go, Walter White seems like he'd be pretty interesting to have a talk with. And thanks to Previews, you'll have that chance.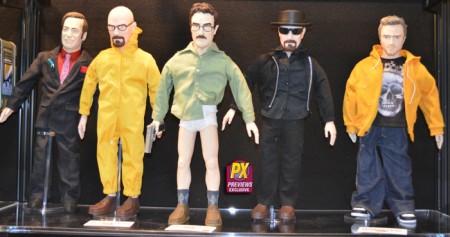 Of course, the conversation that you can have with old Wally here might be somewhat limited since he can't actually converse. He can however, say a whole bunch of phrases from the ultra-popular show that ended its run last year. Walter is exclusive to Previews as well, which'll make him and his underwear a little tougher to locate than the rest of the line.
There've been a bunch of awesome BB collectibles over the last few years, when the show really started to take off, but I think these are probably the coolest by a good margin. Not only are the sculpts great and fun-looking, but the figures themselves are of a really nice scale at 17″ tall, and -of course- they can talk, which is a first for the property.
The Wonderland Toy Co. LLC produced figures are bendable, so you can pose 'em however you like, and they say 15 phrases a piece. The entire lineup will cost you $39.99 USD for each (including Walt) and they can be had via your local comics shop starting this coming June.
Here's a rundown of what each figure can say (warning, some of this is ever-so-slightly NSFW) :
Cook
What the hell is wrong with you? I'm really asking!
Hey, look, I'm just the chemist here, I'm not the street guy, yo.
I simply respect the chemistry. The chemistry must be respected.
The batch will be good for nothing if we don't clear the contaminate.
The cook, can't stop.
You kill me, you have nothing.
Don't chop chop me.
Why am I the only person capable of behaving in a professional manner?
How did everything get so screwed up?
One homicidal maniac at a time.
Every life comes with a death sentence.
There is gold in the streets, just waiting for someone to come and scoop it up.
The methylamine keeps flowing no matter what.
Nothing stops this train. Nothing.
You're God-damn right.
Maybe now you'll listen. Maybe now you'll use your damn head.
Heisenberg
I'm Heisenberg
Stay out of my territory.
Are you familiar, with my product?
Help me out, professor.
Should I not worry that my drug addicted partner doesn't seem to care whether he lives or dies?
Who are you talking to right now? Who is it, you think you see?
You clearly, don't know who you're talking to so let me clue you in.
I am the one who knocks.
I am the danger.
Put a bullet, in my head, and kill me right now.
We're done, when I say we're done.
I'm in the empire business.
Say my name.
If you believe that there's a hell, we're already pretty much going, but I'm not going to lie down until I get there.
If you don't know who I am, maybe your best course would be to tread lightly.
If we're gonna go that way, you'll need a bigger knife.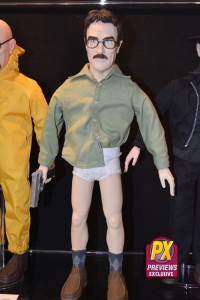 PX Underpants
My name is Walter Hartwell White, I live at 308 Negra Arroyo Lane, Albuquerque New Mexico, 87104
Honestly I never expected you to amount to much, but, Methamphetamine?
But you know the business, and I know the chemistry. I'm thinking, maybe you and I could partner up.
We will produce a chemically pure and stable product that performs as advertised.
Did you learn nothing from my chemistry class?
The shit you cook, is shit.
Will you please, just once, get off my ass? You know, I'd appreciate it. I really would.
You see hydrofluoric acid won't eat through plastic, it will however dissolve metal, rock, glass, ceramic. So there's that.
I have cancer, lung cancer. It's bad.
Sometimes I feel like I never actually make any of my own. Choices, I mean.
No matter what happens, no more bloodshed.
The chemistry is my realm, I am in charge of the cooking.
Today, is the first day of the rest of your life.
Fuck you! And your eyebrows!
Now don't you see how great this is?
Ah, now that we've identified the problem, you and thinking, that's the problem.
That, is, such bullshit.
This changes nothing. What I do, I do for my family.
Jesse
Chili P is my signature.
Whatever man.
Hey I'm out there making fat stacks man, chill.
Yeah Mr. White! Yes, science!
Come on, yo, can you please, please just help a brother out?
Seriously, when the going gets tough, you don't want a criminal lawyer, alright. You want a CRIMINAL lawyer, know what I'm sayin'?
Just try and stop me, bitch.
You're my free pass, bitch.
It's all like shiny up in here.
Boo-yaa.
Where's your self respect? C'mon yo.
The timer went off, yo.
Hold on to your hats, bitches.
Yeah bitch, magnets, Oh!
Mr. White, he's the devil.
Saul
God you are killin' me with that booty, unh.
Conscience gets expensive, doesn't it?
I'm a lawyer. Even drug dealers need lawyers, right? Especially drug dealers.
So if you want to make more money, and ah, keep the money that you make… Better call Saul. Haha.
I'm always looking for billable hours.
There's no honor among thieves, except for us, of course.
Believe me money laundering ain't what it used to be. God, do I miss the 80's.
I've been working magic here, I can at least get an attaboy.
Zzzttt. Wrong answer! That's what the kids call 'epic fail'.
Did you ever hear the expression a fart in the wind, kid?
Sorry you can't be too careful these days.
All I can say is if I ever get anal polyps I'll know what to name them.
Do I complain? No. Beg, borrow or steal I'm your huckleberry, I go the extra mile.
Some people are immune to good advice.
Don't drink and drive, but, if you do, call me.