Yes, there were new Minimates galore (which were all great) and some super-cool new Marvel Select toys on display at the Diamond Select booth at Toy Fair, but seeing the all-new Ghostbusters Select figures? That was one of the highlights of the entire show.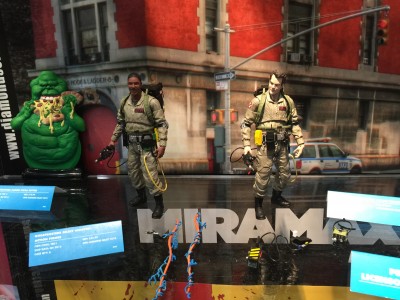 As a fan of the classic property that is Ghostbusters, I was knocked over by what DST is doing with the new series of toys they're set to bring to market some time this year. Not only are the sculpts spot-on for Ernie Hudson and Dan Ackroyd (the only two shown at the Fair), but the detail on the suits and accessories are incredible and the articulation is top notch with tons of poseability. Event the little touches like the proton stream that clip onto the neutrona wands look amazing.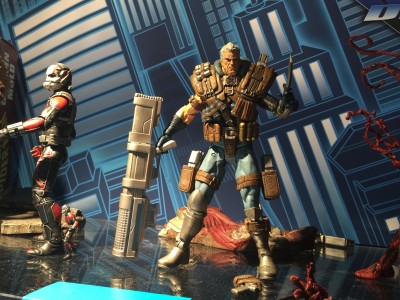 Keep in mind that I actuallyliked the toys made by Mattel a few years back, but these 7″ figures are going to be the highlights of your Ghostbusters collection. That, I think, is incredibly safe to say. And we're not just talking about the fab four either (and I'm taking about the original team here), as DST has plans for a full line of 12 figures, each with a section of rooftop as a base. All the individual sections will then clip together to make one massive diorama for your shelf. With that in mind, you might want to grab yourself one of those massive Stay-Puft figure/banks now…
Aside from the Ghostbusters (which I could probably go on and on about), DST showed off (movie) Ant-Man, Cable, Carnage, zombie Sabertooth (with opening and closing jaw), and Dr.Strange. As usual with the Marvel Select line, these all looked great – even Sabertooth, and I'm not a fan of Marvel Zombies at all. I'm dying to get ahold of that Cable figure. He looks fantastic and the base for him has a Stryfe helmet sculpted onto it.
Minimates are back in a big way too, with some that I can't talk about here- but that you're going to like… a lot. There were also all sorts of odds and ends in the booth, including cookie jars, statues, and bust/banks that would be right at home on your book or DVD/Blu Ray shelf.
Check out the full tour in the gallery below!