Not at all frightening, and loaded with goodies, the special Friday the 13th Mezco Mystery Boxes are up for sale on the company's website.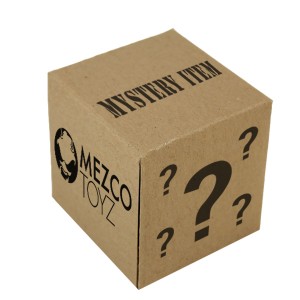 The next round of mysterious crates form toy-maker Mezco Toyz is here and there are some real prizes to be had this time around for collectors. Aside from the usual assortment of stuff, which will equal up to $26.00 USD worth of items, there's some super-rare items set to be sprinkled around that a few lucky boxers will get when they crack open their shipments.

Some customers will get a special Toy Fair Gus Fring (from Breaking Bad) Limited Edition Preview Figure, while some will nab a Monster Scale Frankenstein worth $100. And if that's not enough for you, others will get a Mega Scale Batman worth a mighty $200! Not bad at all for a crate full of surprises that costs you just $13.00 USD.
The boxes are on sale now and will shipping out on Monday the 23rd of this month. If you'd like to order one up for yourself, click here. And to skip the Mystery and just buy in for a Gus Fring of your very own, click here.