Get ready to rumble with your Amiibo collection on the go, as Super Smash Bros on Nintendo's handheld has officially added support of the toy line.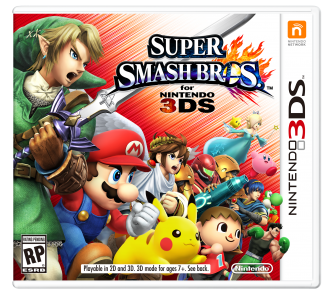 I have to note first, that you won't actually be able to use Amiibo figures in your game till this Friday (or if you grabbed an early release system somehow), as currently on the market 3DS' don't have the ability to read the NFC chips in Amiibo. Still though, as of yesterday the most popular game on the 3DS family of consoles finally has the ability to play nice with your figurine collection.
All you need to do to use the figures, is to place one on the bottom screen of the New 3DS XL (or the New 3DS, if you're not in the US) and the console will read them and bring the into your game. Super Smash Bros might be the first game to make use of the toys, but it certainly won't be the last as Codename S.T.E.A.M. will somehow utilize them as will Xenoblade Chronicles 3D, which is exclusively available on the upcoming handheld.
As for the old console that you're playing on now, well you won't be completely left out in the cold if you're not planning on upgrading. Nintendo will release a standalone NFC reader to add onto your old school 3DS sometime this year. No date on that one yet, but it's coming, and will allow you to use the Amiibo just as if you had a shiny New 3DS.
The New 3DS XL (and the smaller system, again, if you're not in the US) hits stores this Friday.
Source: GamesRadar