Ready for a little Cuisine & Cargo in your Dying Light. Well, I guess it all depends on what the 'cuisine' is.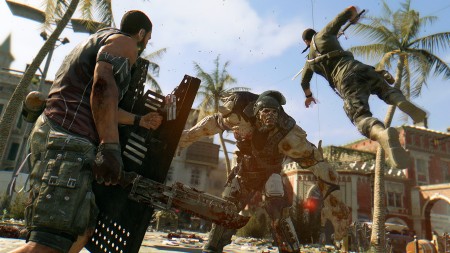 The first arrival of downloadable content for Techland's zombie/parkour epic Dying Light, Cuisine & Cargo delivers two new missions (TOUGH new missions), which are set in a restaurant and a railroad yard- hence the name. One important note here, as this delivery is only available to those who picked up the Season Pass for DL. So unlike the rest of the planned packs still to come, you won't be able to pick up just this offering separately from everything else.
It's kind of a little 'thank you' for Season Passers, and in that way, it's pretty nice. As for the full listing of what's on the way for that game, you can have a look at all the packs below. And if you pick up the Season Pass of course, you'll be getting the above and all of the below.
Cuisine & Cargo (February 10th)  – Available exclusively as a part of the Season Pass offer, these two hardcore missions let players investigate buildings sealed off in the very first days of the outbreak. Explore the ominous corridors of once the most famous restaurant in Harran, and employ both stealth and combat to ransack a zombie-filled loading bay at the abandoned railroad yard.
Ultimate Survivor Bundle (March) – Players will receive seven unique in-game items that will bring fighting zombies to a whole new level. Grab three special outfits and four blueprints for over-the-top weapons to make your adventure in the quarantine zone even more fun.
The Bozak Horde (May) – The final Season Pass drop will deliver a new map and gameplay, playable in single-player and co-op. Go inside the Harran Stadium and test your combat know-how against relentless hordes of the Infected. Fight increasingly stronger enemy waves as you oppose a mysterious psychopath called Bozak.
Dying Light is available now for the Xbox One, PS4, and PC.