Like retro games? Like Loot Crate and similar subscription services? Then My Retro Game Box might be something that's right up your alley.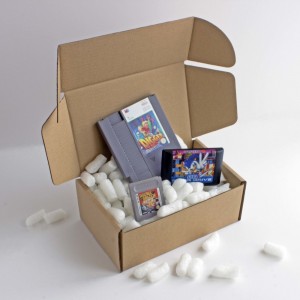 As far as subscription services go, I have to say I think this has to be one of the coolest out there. Based on the Loot Crate model, which offers up a mystery box of goodies to subscribers each month, My Retro Game Box is ready to cater to the retro gamers among us. And if you've still got your NES hooked up (or say, a Retron) then you're going to want to think about subbing up.
The service drops a box filled with games from a stunning amount of possible consoles. Included on the inventory list are titles from the NES, SNES, N64, Game Boy, Game Boy Color, GameBoy Advance, Master System, and Mega Drive/Genesis. You might notice a few consoles in there that aren't sold in the UK or the US like the Sega Mega Drive and/or Genesis, the reason for that is that My Retro Game Box serves both territories and you can select which you'd rather get games for. So if you're in the UK, you're going to get Mega Drive and other PAL games, and if you're in the US you'll be getting NTSC titles. Actually, you can get your PAL or NTSC games just about anywhere, since the company delivers globally. As a little bonus though, those in their home turf of the UK get free shipping.
According to the website, you can also select which consoles you own (the more the better as they'll have more options on games), and if you'll accept games in not-so-great condition. By that, I mean that the games will work just fine, but might have scuffs or ripped/stained labels. There are no contracts here either, sweetening the pot. You can pay by the month or pre-pay for time periods up to a year.
All in all, this is a pretty awesome little service, one that I don't think I'll be able to resist for all that long. Actually, if you'll excuse me, I think I have to head over to the official site and do some more… research. Yeah, that's what I'll say.
Source: MCV