Five all-new licenses mark the beginning of a packed 2015 for Diamond Select Toys.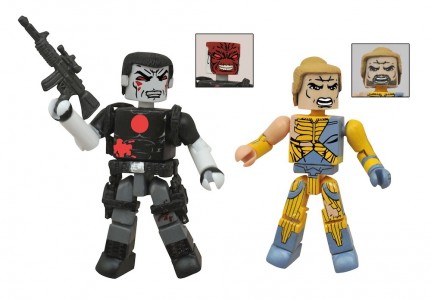 Comic Book Men, Predator, The Nightmare Before Christmas, SpongeBob Squarepants and Valiant Comics all get some very cool merch from DST this year. There's more to come too, as the company has announced that the rapidly approaching Toy Fair will expand on all of the above, as to what the company will have on the shelves this year.
I have to say though, I'm pretty excited about the Valiant Comics license in particular. It's just so cool to see a lil' version of Bloodshot and X-O Manowar, crafted in the Minimate style. As for existing properties that are set to get a little more DST love, you can count Ant-Man, Marvel Minimates, Batman '66, Kill Bill, and more among them. We'll have plenty more for you as we get into Toy Fair from Diamond, but in the meantime, have a look at the listings below and see some of what's on tap for 2015.
Aliens Alien Queen Metal Bottle Opener – A Diamond Select Toys release! All hail the Queen! Hang the skull of the Queen Alien in a place of honor on your refrigerator, and pay tribute to her reign by occasionally taking her down and opening a few bottles for yourself and your friends in the Colonial Marines. This 4-inch metal rendering of the ruling xenomorph from Aliens is the perfect shape for removing bottle caps, and you can drink in peace knowing that the rest of her is somewhere far, far away. Packaged in a full-color slipcase. (Item #JUL148436, SRP: $18.00)
Batman Classic TV Series Mr. Freeze Resin Bust – A Diamond Select Toys release! Everybody freeze! The most cold-hearted of Batman's foes from the Batman Classic TV Series joins DST's line of resin busts! Measuring approximately 6 inches tall, this detailed rendering of famous director Otto Preminger in his turn as the villainous Mr. Freeze sits atop a pedestal base inspired by the show's animated opening sequence. Sculpted by Jean St. Jean, he is in scale to DST's busts of Batman, Robin, The Joker, The Riddler, The Penguin and most comic-book characters! Comes packaged in a full color box with a certificate of authenticity. Limited to 3000 pieces! (Item #FEB152152, SRP: $59.99)
Comic Book Men TV Minimates Box Set – A Diamond Select Toys release! The gang's all here! The five stars of AMC's hit reality TV series Comic Book Men combine to form the most powerful Minimates box set in the galaxy! Kevin Smith, Walt Flanagan, Bryan Johnson, Ming Chen and Mike Zapcic each get their own 2-inch Minimates mini-figure in the first five-pack dedicated to the Comic Book Men. Each figure stands 2 inches tall with 14 points of articulation, and features interchangeable parts and accessories. Packaged on a full-color blister card. Designed by Art Asylum! (Item #FEB152151, SRP: $24.99)
Jay and Silent Bob Bluntman Baseball Cap – A Diamond Select Toys release! You can't fight crime without the proper headgear! Cover your dome with this official baseball cap, based on director Kevin Smith's crime-fighting duo Bluntman and Chronic! This black, faux-leather baseball cap features Bluntman's trademark ears and has an adjustable strap, so one size fits all. It may not offer much in the way of protection while battling evil, but dang if it doesn't make you look good while doing it! Packaged in a clear polybag. (Item #FEB152154, SRP: $24.99)
Kill Bill Minimates Deadly Vipers Box Set – A Diamond Select Toys release! Black Mamba. Copperhead. Sidewinder. California Mountain Snake. Along with Cottonmouth, these four killers made up the Deadly Viper Assassination Squad, commanded by the Snake Charmer, Bill. When Beatrix Kiddo was left for dead, she came back to kill every one of her old comrades, and now Beatrix, Vernita Green, Bud and Elle Driver make up the fourth Kill Bill Minimates box set! Each 2-inch Minimates mini-figure stands 2 inches tall with 14 points of articulation, and features interchangeable parts and accessories. Packaged on a full-color blister card. Designed by Art Asylum! (Item #FEB152159, SRP: $19.99)
Lost in Space Jupiter 2 Spaceship Metal Bottle Opener – A Diamond Select Toys release! Travel to the farthest reaches of your refrigerator with this 3-inch metal bottle opener of the famous Jupiter 2 spaceship from Lost in Space! You won't need a helper robot to open your bottles anymore, and magnets on the underside will allow it to hover in place on your refrigerator door, or on the dashboard of your lunar rover. Packaged in a full-color slipcase. (Item #FEB152164, SRP: $18.00)
Marvel Deadpool Plastic Gelatin Mold – A Diamond Select Toys release! Nothing burps better than Deadpool! Put the Merc with a Mouth inside your stomach using this plastic gelatin mold of Deadpool's head! Cast up an approximately 8-inch by 6-inch chilled gelatin dessert in the likeness of X-Force member and hired killer Wade Wilson, complete with squinty eyes and partially exposed brain. But you might want to eat it fast – the self-regenerating mutant could be back on his feet in no time! Packaged in a full-color window box. (Item #FEB152163, SRP: $14.99)
Marvel Select Avengers Age of Ultron Black Widow Action Figure – A Diamond Select Toys release! Finally, the figure fans have been waiting for has arrived! After three blockbuster film appearances, Scarlett Johansson's Black Widow joins the Marvel Select Avengers line-up, just in time for Marvel's Avengers: Age of Ultron! This 7-inch scale figure features her look from the new movie, has 16 points of articulation, and includes a diorama base that connects to Age of Ultron Thor's to create a scene from the film. She comes packaged in the now-famous Marvel Select display packaging, with spine artwork for shelf reference. Sculpted by Gentle Giant! (Item #FEB152166, SRP: $24.99)
Marvel Select Ant-Man Movie Action Figure – A Diamond Select Toys release! The smallest Marvel movie hero is now the next big Marvel Select action figure! From the upcoming Marvel Studios film, "Ant-Man," this 7-inch scale figure captures Paul Rudd as Ant-Man, with detailed paint applications and 16 points of articulation. The figure comes packaged in the now-famous Marvel Select display packaging, with spine artwork for shelf reference, and includes interchangeable hands and a shrunken Ant-Man micro-figure! Figure is in scale to other Marvel Select movie action figures. Sculpted by Gentle Giant! (Item #FEB152167, SRP: $24.99)
Marvel Minimates Series 62: Axis Asst. – A Diamond Select Toys release! The Inversion is upon us, and some of Marvel's biggest heroes and villains have changed their looks, as well as their minds! This all-new assortment of comic-based two-packs includes Sam Wilson as Captain America vs. Red Onslaught, Superior Iron Man vs. Apocalypse, Carnage vs. Hobgoblin, and Sabretooth vs. Kluh, the evil Hulk! Each two-inch Minimates mini-figure features 12-14 points of articulation, as well as interchangeable parts and acccessories. Each 2-pack comes packaged in a full-color window box. Designed by Art Asylum! (Item #FEB152165, SRP: $9.99/ea.)
Nightmare Before Christmas Jack and Sally 12″ Coffin Doll Set – A Diamond Select Toys release! What's this? What's this? After a long absence, the stars of the stop-motion animation holiday classic Tim Burton's The Nightmare Before Christmas are back, just how you remember them! Re-creating the classic collectable figures of yesteryear, these 12-inch poseable figures of Jack Skellingon and his true love Sally feature real cloth costumes over articulated bodies, and come packaged in a coffin-shaped window box. Limited to 1,000 numbered pieces. Originally designed and created in Japan. (Item #FEB152151, SRP: $99.99)
Predator Unmasked Metal Bottle Opener – A Diamond Select Toys release! Predators love the heat, and nothing beats the heat like a cool, refreshing drink. Whether you're slogging through an impenetrable jungle or hiding out in a Los Angeles barrio, use the mandibles on this metal Predator bottle opener to pop the cap off of your favorite bottled beverage. Plus, magnets on the back will hold it fast to your refrigerator or trophy case, so you'll never have to "hunt" for an opener again! Packaged in a full-color slipcase. (Item #FEB152158, SRP: $18.00)
SpongeBob Squarepants Minimates Series 1 Asst. – A Diamond Select Toys release! Who lives in a pineapple under the sea? It's SpongeBob Squarepants, the star of a new Minimates mini-figure line! Based on the long-running hit animated series, the first assortment of two-packs includes SpongeBob with Sandy, Patrick with Squidward, Mr. Krabs with Perch Perkins and a rare, one-per-case box set of Grandpappy Redbeard with an orange Perch Perkins! Yarrr! Each Minimate stands approximately 2 inches tall with multiple points of articulation, and each figure features interchangeable parts and accessories. Packaged on a full-color blister card. Designed by Art Asylum! (Item #FEB152155, SRP: $9.99/ea.)
Star Wars Classic X-Wing Fighter Metal Bottle Opener – A Diamond Select Toys release! Stay on target! A bottlecap is a pretty small bulls-eye, but you won't need a targeting computer to open one with this solid metal bottle opener of an X-Wing fighter from the original Star Wars trilogy! Raise a toast to the Rebellion, and then hang the opener on your refrigerator using the magnetic docking clamps on the underside.  Packaged in a full-color slipcase. (Item #FEB152161, SRP: $18.00)
Star Wars Stormtrooper Vinyl Bust Bank – A Diamond Select Toys release! The legendary Imperial Stormtrooper has joined DST's line of vinyl Star Wars bust banks! Measuring 8 inches tall, this vinyl, waist-up bank depicts of one of the iconic soldiers of the original Star Wars trilogy, blaster at the ready.  Not only does it feature the detailed painting and sculpting of a collectible bust, it also has a coin slot and an access door in the base, making it a fully functioning coin bank. He'll keep your money safer than Cell Block 1138! Packaged in a clear polybag. (Item #FEB152160, SRP: $22.99)
Teenage Mutant Ninja Turtles Minimates Series 2 Foil Bag Counter Display – A Diamond Select Toys Release! Ninja Turtles Minimates are back, with new Turtles, new friends and new enemies! Each countertop display contains 18 blind-bagged pouches, and each pouch contains one 2-inch Minimates mini-figure, featuring interchangeable parts and accessories. The assortment includes nine different Minimates, including new versions of Leonardo, Michelangelo, Donatello and Raphael, plus new characters Splinter, Casey Jones, Karai, Chris Bradford and a Norman! There's a full set in every case! Designed by Art Asylum! (Item #FEB152156, SRP: $5.99/ea.)
Valiant Minimates Battle Damaged X-O Manowar and Bloodshot 2-Pack – A Diamond Select Toys Release! Prepare to enter the world of Valiant Entertainment! The Valiant Universe has been reborn, and heroes X-O Manowar and Bloodshot are back in new monthly comic-book adventures! Kick off your collection of Valiant heroes with this two-pack of X-O Manowar and Bloodshot fresh from a skirmish, maybe even against each other! Each two-inch Minimates mini-figure features 14 points of articulation as well as interchangeable parts and acccessories. Packaged in a full-color blister card. Designed by Art Asylum! (Item #FEB152162, SRP: $9.99)