Star Wars fans prepare to whet your appetite, check out this concept art that just released.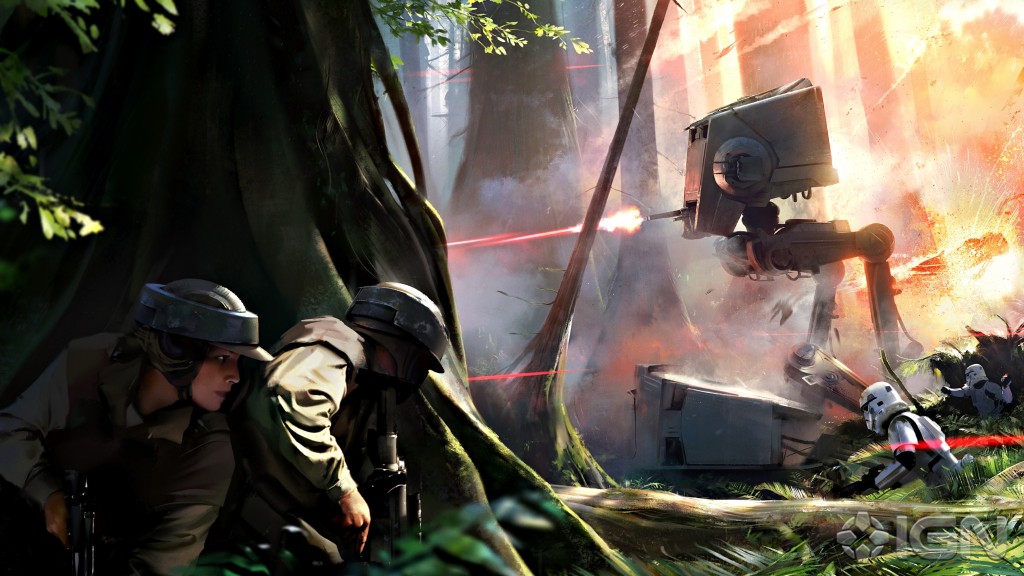 In the foreground there are two Rebels, a male and a female, armed with a scoped rifle and standard blaster respectfully. Around the tree from them are a pair of stormtroopers and a shooting AT-ST. Off in the distance in the upper right hand corner there is an Ewok village, hinting at possible vertical integration in map design. There is a lot we don't know about this game, but Star Wars Battlefront Design Director Niklas Fegraeus spoke with IGN, revealing some details. Fegraeus said DICE wanted to create variety within their maps to shape various modes of gameplay depending on the field.
"We have actually made the decision to specifically tailor certain maps to certain game modes," Fegraeus continued, "and what we get from that is not only incredibly varied scales, but also gameplay that will allow players to live out some of their most memorable Star Wars battle fantasies."
It seems that Fegraeus and the rest of the DICE team understand the fans' high expectations. As fans themselves, DICE is committed to making the best Star Wars Battlefront game they can. Fegraeus told IGN that they feed back they have been receiving is Battlefront is unlike previous shooters and feels born straight out of the Star Wars world. The developer's Frostbite Engine is very impressive, as seen in The Vanishing of Ethan Carter.
If you are a fan of Star Wars, but are unfamiliar with the Battlefront games, I urge you to watch the trailer below. This is one of my most anticipated games of 2015 and I can't wait for more news on it.
Star Wars Battlefront will be coming out later this year, so expect to see more information and glimpses into the game real soon.
Please follow me on Twitter for more news and information: @lmrome3