Just in time for the newest round of Marvel films starring Earth's Mightiest Heroes, Marvel: The Avengers Vault is set to hit stores with history and trivia galore on Marvel's biggest super-team.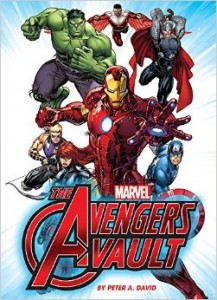 Billed as a "comprehensive" guide to the team, Marvel: The Avengers Vault was put together by Thunder Bay Press and none other than famed Hulk and Avengers writer Peter David. The book chronicles the entirety of the group, from their first appearance in the 1960's right up to their current incarnation in the Marvel U of today.
You can expect to see four main selections in the tome, one for each of the core Avengers characters – Hulk, Captain America, Thor, and Iron Man. There's also set to be sections for Avengers who haven't' quite hit the silver screen as of yet, but are on their way. So Captain Marvel, The Black Panther, and Ant-Man each have a little part of the book to call their own as well.
And each of those sections will be loaded up with imagery as well as panels pulled right from the comics themselves and some cool pull-out pieces like "a Thor poster, concept art for Iron Man, Captain America's Sentinels of Liberty membership card, original art by Jack Kirby, and more".
Marvel: The Avengers Vault arrives in bookstores this March and will cost you $34.95 USD.