This week sees the addition of another Wii 'classic' to the Wii U's digital lineup as Punch-Out!! rings the bell.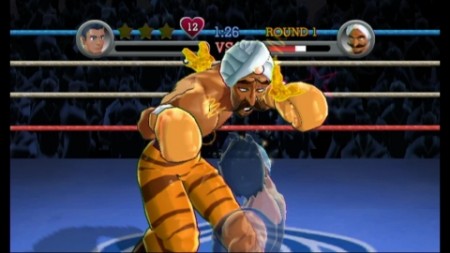 If you missed Punch-Out!! when it was released a few years back for the Wii, it's basically the same game that you know and love from the NES/SNES eras, just prettier- and that's not a bad thing by any means. You'll feel right at home behind the shoulder of Little Mac as he punches his way to the top of the various circuits and wins titles in this updating of one of Nintendo's best-loved (and really seldom seen) franchises. If you skipped this bout before, you might want to seriously consider it now that it's downloadable on the Wii U- and at a limited time price of $9.99 USD, it's almost a can't miss.
Also available this week is Atlus' bizarre political sim Citizens of Earth, which is sure to please fans of the publisher. And rounding things out is the NES shooter S.C.A.T., which isn't the best known game in the world, but is a pretty fun time if I remember correctly.
Not the biggest week on the eShop, but it's certainly continuing to pick up from the post-holiday doldrums. Check out the full listing of what's new and exciting below.
Nintendo eShop Sales:
Also new this week:
In addition to video games available at retail stores, Nintendo also offers a variety of content that people can download directly to their systems. Nintendo adds new games weekly to the Nintendo eShop on the Wii U console and the Nintendo 3DS family of systems, the Nintendo DSi™ Shop for the Nintendo DSi system and the Wii™ Shop Channel for the Wii console.
The Nintendo eShop is a cash-based service that features a wide variety of content, including new and classic games, applications and demos. Users can add money to their account balances by using a credit card or purchasing a Nintendo eShop Card at a retail store and entering the code from the card. All funds from one card must be loaded in the Nintendo eShop on either Wii U or the Nintendo 3DS family of systems, but can be used in either Nintendo eShop if the systems are linked to a single Nintendo Network account.
The Wii Shop Channel offers games and applications and uses Wii Points™, which can be purchased via the Wii Shop Channel. The Nintendo DSi Shop offers games and applications and uses Nintendo DSi Points™, which can be purchased in the Nintendo DSi Shop.
Remember that Wii U, Wii, Nintendo 3DS, Nintendo 3DS XL, Nintendo 2DS and Nintendo DSi feature parental controls that let adults manage some of the content their children can access. For more information about this and other features, visit http://www.nintendo.com/wiiu orhttp://www.nintendo.com/3ds.