One of Nintendo's most popular franchises comes to the Wii U  in a game that's fast, action-packed, beautiful, loaded with content, and downright insane.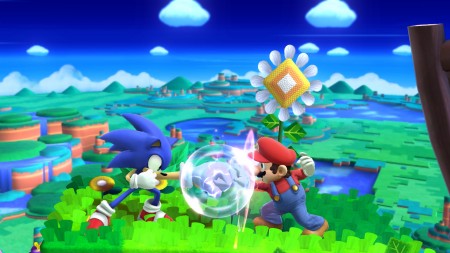 Like I said in my review of the 3DS edition of Super Smash Bros back in November, I've always had a pretty low opinion of this series. Before you torch me in the comments Nintendo faithful, here's a few things for you to chew on (which is going to sound eerily familiar if you've read my 3DS review): I love Nintendo's stable of characters and consider almost all of their first-party series' to be some of the very best in the industry. So why, then, would I not like SSB? Well, it's pretty simple, I'm not he biggest fan of the genre in the world and when I do play, it's a title from the old school of fighting games.
I love Street Fighter, Mortal Kombat, and SNK's classic stable of titles like Art of Fighting and King of Fighters. One-on-one, and even team fighting, in those games is very straightforward and simple in terms of style, even though they're not simple games by any means. Super Smash Bros on the other hand, is off-the-wall nutty and a wild free-for-all that always seemed to have no rhyme or reason to me.
There are plenty of people who do get the series though, and they love every minute of that craziness. As one of Nintendo's newer (remember, it's only been around since the N64) and biggest franchises, there are legions that eagerly await the arrival of very incarnation so they can pit the publisher's army of mascots against one another. That's certainly not me though… well, it wasn't anyway.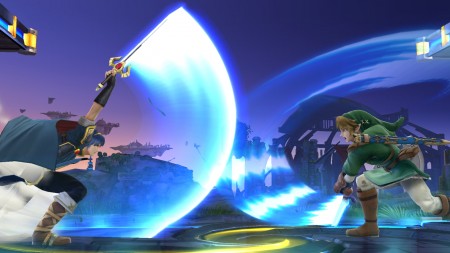 Super Smash Bros on 3DS really went a long way towards changing my mind on the series, and has become one of my favorite titles to pull out and play on the handheld. As for the Wii U version, well, it's even better and has even more of what you look for in the series.
Graphically, this is a beautiful game too, which certainly helps. The Wii U might not be known as the most powerful system right now, but man does Nintendo know how to squeeze the very best in graphics from it. The character models are awesome across the boards and are not only super-colorful, but also sport a surprising amount of detail. Basically, the characters look just as they do in their individual games that they've been plucked from. This kind of presents a weird look when contrasted against one another as Mario and Samus don't exactly match in terms of aesthetic. Even so though, it's authentic to the characters and fun once you get used to it. This isn't a 'serious' fighter after all, with a deep story mode and characters that are supposed to be all from the same universe.
The sound is great too, with signature voice and sound effects coming from all the fighters. And the music is awesome, by the way. Not only do the stages have tunes from the games that you'd expect, but it all sounds absolutely fantastic coming out of the Wii U and there's a ton and a half of it. Seriously, the music player is jam packed on this one and would take you a good long while to get through if you tried to play all the tracks (which you might want to do anyway if you're a Nintendo super-fan).
Past the A/V package though, the game is loaded with modes and options. Special Order, Event, Classic, and All Star Modes all add in their own little seasoning, making playing the game far from monotonous and exciting even if you're just playing a few rounds all by your lonesome. Actually, the sheer mount of options for play in Super Smash Bros was somewhat daunting to be quite honest. As someone who's used to rather limited sets of options from their fighting games, I found it kind of off-putting at first. The best thing to do is probably play a bit of everything when you start off, that way you can get an idea of what you like, what you don't, and what's best to play when friends drop by (Smash Tour is no fun with anything other than a crowded room).
If you do avoid some modes though, you'll probably be limiting yourself in one of the great meta-games at work in Super Smash Bros- that being the unlockables. This game is obsessed with unlockable goodies, and it's one of the best things about it. Especially if you're a long time gamer, there's just no way that you're not going to get a huge case of the smiles when you open something up that's dripping in Nintendo nostalgia. Even character unlocks are kind of done in this way as a new fighter will just randomly appear and challenge you. Beat him and he'll be then added to your roster.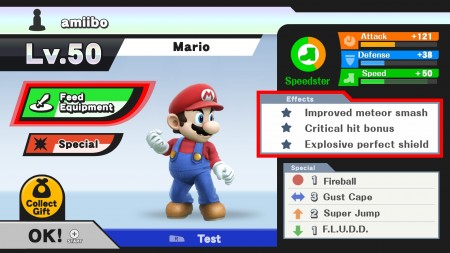 Super Smash Bros is also the only of the two editions (the 3DS version being the other one) to support Amiibo right now. Implementation is actually pretty cool. All you need to do is touch your Amiibo figure to the GamePad's NFC area and they'll be zapped into the game's training mode. From here, you can tweak and train your character(s) to your heart's content. Eventually, they'll really become a mean machine too, capable of giving all but the best Smash players a run for their money. These Amiibo can then be used as avatars and inserted in friends games to play against them- and at times, really trash them. You can also partner up with them or take them on yourself.
It's a cool feature set that is a great step in the right direction when it comes to Nintendo's figure line. As one of the only games that really does something halfway cool with them right now, I can only hope that Nintendo looks to Smash to set the bar for future games to break and doesn't just give us more instances of Hyrule Warriors weapon unlocks.
Final Thoughts
As a non-fan who fell a bit in love with the 3DS version earlier last year, I can happily say that the Wii U version of Super Smash Bros doesn't disappoint.
Suer the game's still as insane and unpredictable as ever and sometimes I had no idea what was happening (especially in the 8 player matches, which are insane and not playable online by the way), but it's a fun kind of insanity that's easy to get used to really. The graphics are phenomenal, the sound is excellent, and the sheer amount of stuff to do and things to unlock are daunting, but in a good way. And when you're done with all that the game has to offer natively, you can make your own levels; what's not to like?!
If you like Smash, give this one a go. And if you don't, well, maybe give it a try- you just might love it.