Possibly the most unceremonious way possible to reveal a game of this magnitude, but here it is. Total War: Warhammer is in the works.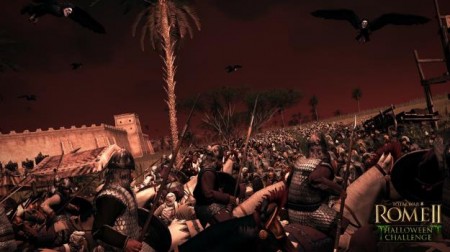 So there's this art book, and it's got a ton of awesome Total War stuff in it. And it's set for release at the end of this month. And somebody got it early. And… well, you can see where this is going, no?
In the book in question, developer Creative Assembly's creative director Mike Simpson s talking about the future and games evolving, and where they might be heading down the line. He then moves over to talking a bit about where the company is taking its Total War franchise and speaks a line about Total War: Kingdom… and Total War: Warhammer.
And that's it. So, just to be clear, there's no further exposition on the game, or what we as gamers should be expecting to see included, just a quick mention. Though, with that quick mention we also get a confirmation that one of the most prolific and best-received epic strategy war-games of all time will be adapted to the Games Workshop Warhammer IP at some point in the near future.
And if that's not enough to get you excited, well, then I don't know what to tell you. We'll have more about this one as soon as something's (officially) announced.
Source: MCV