Ever wanted to just jack into your mobile device and play some games on the big screen in your living room? Well, now you can.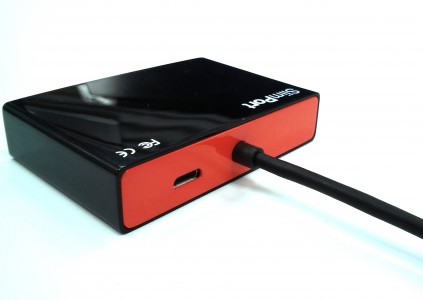 Analogix' SlimPort adapters might not have the 'gaming'-est of names for something so cool, but they certainly look like they get the job done just the same. The diminutive line of devices wires your Android tablet or mobile phone (anything with a SlimPort) right up to any TV and basically mirrors the on-screen action so you can get a little bit of a bigger picture. Okay, depending on your TV size, a lot bigger of a picture.
There are currently three different versions in the SlimPort series from the company, with the  SP1003 HDMI Adapter,  SP2003 VGA Adapter, and SP1202 HDMI/VGA Combo Adapter (which offers both outputs) all out there right now. All three will hook your device up to the TV or computer monitor of your choosing, transferring both video and sound, and all of them even charge your device while you play!
We might be a little more interested in the gaming applications here on BG, but you can also use these guys to watch movies on your TV, and even do presentations at work by plugging it into a projector- basically anything with an HDMI or VGA interface will work, as long as you get the right converter for what you want to do.
Analogix has a few things in the works as well for CES this week, which we'll keep you posted on, but in the meantime, these'll get the job done if you're looking for a little big screen fun from your little screen device.