How and where are a mystery, but Marvel has released one of their infamous teases and promises a whole new Avengers squad some time down the road.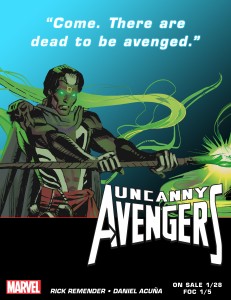 Teasing fans with the quote "From the ashes, a new team of Avengers Assembles", Marvel released a brand new peek at what's on the horizon for their number one superhero team. And that first look includes… Brother Voodoo? Yep, the semi-forgotten Marvel character is looking like a shoe-in for the new squad, who's makeup is still largely up in the air (well, except for Voodoo here) after the events of Axis come to a close.
Having a mystical element to the team is actually pretty neat, even though Brother Voodoo isn't exactly a household name in the vein of Iron Man and Cap. His inclusion kind of harkens back to the Avengers of the 80s and early to mid-90s, when there were tons of members on the roster and weird, kind of niche characters like Voodoo were commonplace. This was before the Marvel Cinematic Universe debuted mind you, and the team was more or less stripped down to it's core members… plus the ill-fitting Spider-Man and Wolverine… I still can't picture them as full-fledged Avengers.
Anyway, look for Uncanny Avengers, new roster and all, to hit the stands on January 28th.