The last new comic book day of 2014 might be a light one, but it's still got a few things that fans shouldn't miss.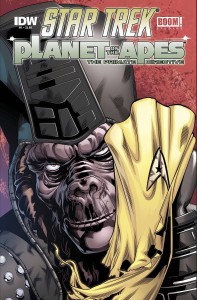 And by 'a light one', I mean there's barely anything out there on the racks this week for your reading pleasure. That's not too unusual, as the end of the year pretty much always suffers this affliction, but wow is this a thin week. Of course, that doesn't mean that there isn't anything to buy, as there are a few standout books that deserve your attention come this Wednesday (New Year's Eve). And you'll probably need something to read on NYD as you get over all the, uh, celebrating, from the night before after all. Providing your eyes can take the light necessary to actually read.
Presuming they can, the first and foremost pick for this week has to be Star Trek/Planet of the Apes from IDW. This one's been a long time coming now, and has one of the most unique and yet fitting crossovers in comics history. The promised events are pretty awesome too, as Kirk and the Enterprise somehow find themselves trapped in the 'Apes' timeline and actually side with the less-than-good Dr. Zaius in defense of Ape City. If you're a fan of either famed sci-fi property, don't you dare miss this one.
Also big and available for sale this week is the debut of Agents of S.H.I.E.L.D. from Marvel. The comic, which plays off the TV show of the same name, is the first S.H.I.E.L.D.-starring book on the racks since the 2010-2012 run. Of course, this new comic doesn't star Nick Fury, as usual SHIELD books do, but features the Marvel Cinematic Universe's Agent Coulson and his crew instead. Even if you're not a fan per se, it might not be a bad idea to grab a copy anyway, as it looks like Marvel is ever-strengthening the bonds between their movie and comic book universes. This one could prove interesting.
DC has a few Future's End tie-ins on offer this week, which should prove good reads for those who've been following the weekly event book. Future's End #35 in particular looks to be a big one as DC promises that it's the beginning of the end for the book. As for Earth 2: World's End #13, well, it just might be the last you'll see of the Huntress.
Those are my can't misses for this last week of 2014, but here are the rest of what I'll be picking up this Wednesday. And for a full listing, hit this link for Previews full slate of what's on the racks. Happy New Year!
Marvel Comics
Agents of S.H.I.E.L.D. #1 – see above
DC Comics
Future's End #35 – see above
Earth 2: Future's End #13 – see above
Dark Horse Comics
X vol. 4: Better off Dead – This trade paperback collects issues #13-16 of Dark Horse's Project Black Sky book, X. If you haven't been reading, here's another chance to catch up.
IDW Publishing
Star Trek/Planet of the Apes #1 – see above