Marvel Comics is preparing a "definitive" collection of some of the King's best work and they warn that you might want to reinforce your bookshelf or coffee table now.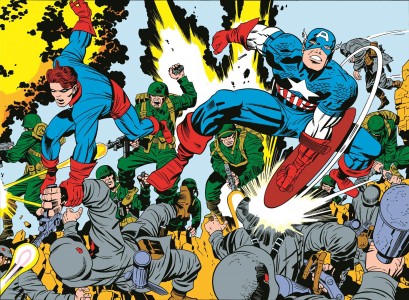 For the uninitiated, Jack Kirby is one of the greatest comic book artists of all time, if not the greatest. The guy could do just about anything (and everything), and had a catalog of work that covered superheroes, westerns, sci-fi, and just about everything else. To put it mildly, he's a legend in the industry and should very much be required reading for any comic fan. As Marvel Editor-in-Chief Axel Alonso so eloquently puts it, "If there were a Mount Rushmore of American comic book artists, Jack Kirby would be front and center".
So with all that in mind, you can imagine that anything called a 'comprehensive' collection of the man's work, would be massive indeed, and that's exactly what Marvel is promising here. The King-Size Kirby Hardcover is set to span the decades in Kirby's career and be loaded with stories penciled by the great. As for the tale of the tape, the book will weigh in at in excess of 800 pages, with a footprint that will measure over a foot tall. Yep, that's your big boy.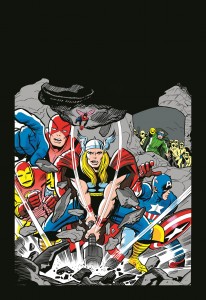 Here's what's in between the covers:
KING-SIZE KIRBY collects material from RED RAVEN #1; MARVEL MYSTERY COMICS #13; CAPTAIN AMERICA COMICS (1941) #1, 7; TALES TO ASTONISH #5; RAWHIDE KID #17; AMAZING ADVENTURES (1961) #1, STRANGE TALES #89, #94 and #114; TEEN-AGE ROMANCE #84; FANTASTIC FOUR #1, #48-51, #57-60 and ANNUAL #5; INCREDIBLE HULK #3; TWO-GUN KID #60; LOVE ROMANCES #103; AMAZING SPIDER-MAN #8; SGT. FURY #6 and #13; AVENGERS #4; TALES OF SUSPENSE #59; X-MEN #9; THOR #134-136 and #155-157; NOT BRAND ECHH #1; AMAZING ADVENTURES (1970) #1-2; CAPTAIN AMERICA'S BICENTENNIAL BATTLES; CAPTAIN AMERICA (1968) #200; ETERNALS #7; DEVIL DINOSAUR #1; and WHAT IF? #11
Expect to see the King-Size Kirby Hardcover, officially written by Jack Kirby, Martin Burnstein, Joe Simon and Stan Lee with art in total by Kirby himself, to be on the shelves of your favorite store this coming July.