A sampler of some of the publisher's best is on the way as the Silver edition of Dark Horse Comics' Free Comic Book Day 2015 slate.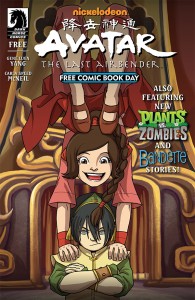 There isn't too much better than Free Comic Book Day if you're a comic fan. Basically, you just walk into your favorite comic book shop, and you get some free reads. Pretty neat and not at all a bad way to spend an afternoon. Dark Horse always has some cool books on tap for the event too, and this year's installment will be no different as they've got a two-part sampler on deck that should make fans happy.
The Silver volume includes stories from Plants vs Zombies, Bandette (by Paul Tobin and Coleen Coover), and Avatar: The Last Airbender adventure, which is pretty awesome actually. The book joins the Gold offering that was already announced which will include Fight Club, The Goon, and The Strain.
Pretty good all around, and depending on where your tastes lie, there are some excellent freebies to be had in both volumes of Dark Horse's 2015 FCBD books. Get to your local comic book shop early on May 2nd, 2015 and grab 'em while you can.