A Legend of Korra art book hits just in time for series fans to wave goodbye to their favorite cartoon. 
For the last two years The Legend of Korra has received positive reception from critics and fans, and last week the animated series wrapped up after four seasons. Due to the popularity of the show it's important for fans to have memorabilia, where they can always have a chance to revisit the world of The Legend of Korra for years to come.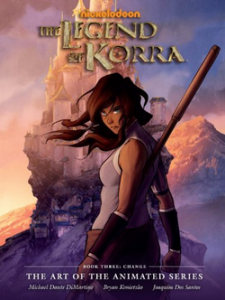 That is what Dark Horse Comics and the creators of The Legend of Korra has provided through what's been a series of art books, and here in particular, in this third entry in that set. In The Legend of Korra: The Art of the Animated Series Book Three: Change, creators Micheal Dante DiMartino, and Bryan Konietzko gives us a behind-the scenes look at the artwork of the third season of the popular cartoon.
The book is divided up into 14 chapters, however only the first 13 chapters take you behind the scenes of every episode of the third season. At the start of each chapter readers are greeted with a beautiful painting as a background image too, which is awesome.
Readers are also introduced to the characters in each episode and are provided with sketches, paintings, and story board concepts. These are accompanied by little captions from the creators that contain their personal thoughts on events, and some explanations as to how certain things came to be.
Chapter 14 is considered an extra chapter that contains ancillary art, and while it lacks the descriptive text of the previous 13, it's still pretty fun thanks to that artwork.
Final Thoughts:
The Legend of Korra: The Art of the Animated Series Book Three: Change is a must have for any fan of the series. This is my first time taking a look at an animated series art book, and I enjoyed getting an inside look. I was fascinated by the artwork, and impressed at the magnitude of creativity that was shown.
This is the next best thing for fans if they want to get up close and personal with the series. Considering that the show finally reached its conclusion, what better way to revisit the world and story that have captured many for the past two years than to have an art book that they can always crack open and look at?