Captain Midnight takes to the jungles in the latest issue of the classic hero's ongoing series from Dark Horse.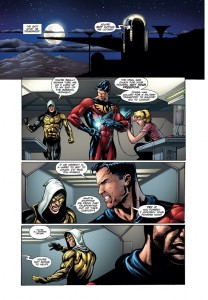 I'd like to start off by saying that I've never read a comic book before, which limits my hands on experience, but here at BrutalGamer we have a fair amount of them come in, so I felt it was finally time for me to expand my horizons. To start off my comic book adventure, I chose Captain Midnight #18, an issue that features plenty of action in a tale titled 'A Jungle Raid in Enemy Territory'.
Now, it's a little weird starting off with an issue that's already fairly well into the main story, but reading through the nice little intro description brought me up to speed. And it even mentioned techno terrorists- hilarious sounding right? Just what I thought. Shockingly, Captain Midnight contains a surprising amount of comedic value throughout, including a large amount of over-the-top superhero clichés, which I assume is done on purpose, and it was enjoyable for me. It even has a Mr. Jones!
The art style is very appealing as well, and my favourite character (by appearance) was Helios. Again, no idea what his back story is since I'm not a regular reader, but his golden chest armour and mask were awesomely designed. The comic also contains more explosions than a Michael Bay movie. Contained within Captain Midnight are also lots of "brakka's", "blams," and other comic onomatopoeia.
On the downside, the story was at times lacking for me, although they tried to be funny with events like "Here's the plan," followed by a 'run and gun' strategy. As the story continues the main characters are trying to take down a threat to the entire dimension, and in the end Captain Midnight goes on alone, but that's enough spoilers for now.
Final Thoughts
Finally, while I have little knowledge of comic books in general as well as this series, I would definitely say this is worth the $3, and with a release of Christmas Eve, a digital copy would come just in time for Christmas and be a good addition to the e-library of any comic book fan in the family. According to the website, it is also coming out as a physical copy, so this one can be had by heading down to the local comic books shop too.