High-end collectible company Project TriForce has a specially themed Black Friday sale going into effect this Friday.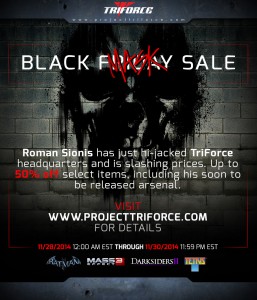 Well, Christmas shopping doesn't really seem like Roman Sionis' thing per se, but then again, maybe the Batman villain is feeling in a giving mood since his new Black Mask Arsenal piece is about to hit Triforce's web store. It's not just Batman Arkham items that will see their prices slashed this post-Thanksgiving weekend though asa few of the company's offerings will be discounted.
Just what they might be is still a mystery as of now, but if TriForce has a sale, it's worth noting as their stuff doesn't go on discount too often and they make some of the coolest gaming-related collectibles around. The sale kicks off at 12:00 am on November 28th, and ends at 11:59 pm on the 30th, to close out the weekend.