Though Dark Horse's Black Friday deal set is already nothing to sneeze at, it is limited to a few bundle deals. Amazing bundle deals, but still. Cyber Monday though, that's gonna be a different story.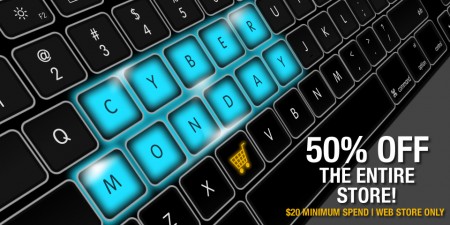 Everything, and I mean everything is on sale in the publisher's digital download storefront for the biggest online shopping day of the year. All you need to do is hit $20.00 USD in your cart, and you're in for one of the best deals in comics this year. Dark Horse is putting everything on 50% off sale on Dark Horse Digital, which means that if you didn't care for the bundles that'll be up for what's essentially a 60% off sale this Friday, then you're going to want to target this one.
The deal is good for only 24 hours and starts up at 12pm Pacific Time on Sunday, November 30th. You can get in on the deal here, and then read your new e-comics on your computer, as well as most Android and iOS devices. Oh, and if you sign up for Dark Horse's Digital Newsletter by Thanksgiving (which is this coming Thursday), you'll actually get even more discounted goodies. Sign up for that here.