It should be a very merry Holiday Season for some needy kids thanks to toy web super-store Entertainment Earth.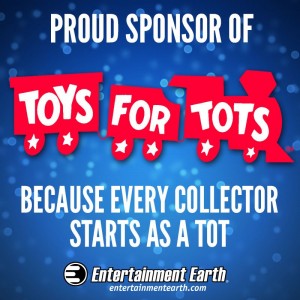 EE is one of the premier destinations on the web for toy collectors of every age, and the company is looking at their youngest set of fans with their new Toys for Tots initiative. Toys for Tots, if you're not aware, gifts thousands of underprivileged kids with presents to tear open at Holiday time dry year.
Sponsored by the US Marine Corps Reserves, Toys for Tots has been doing this incredible work for over 66 years now. That's a lot of smiles- and there'll be a ton more thanks to EE, who've donated $100k USD in toys to the group for their Holiday 2014 drive.
Though the store might be targeted more at the adult collector, they certainly do recognize that every one of those collectors started off as a 'tot'.
"I'm a fan first, and the toys I got as a kid are what inspired me to become a collector and start this company. I'm thrilled that we are able to share our love of toys by donating to kids in need," said Jason Labowitz, president and co-founder of Entertainment Earth.

"It's really because of our clients that we've grown and are able to donate these toys. Without our clients, we wouldn't have the resources to help kids experience the joy of the holiday season," Labowitz said.