Activision and Sledgehammer's Call of Duty: Advanced Warfare is an instant favorite among Twitch users.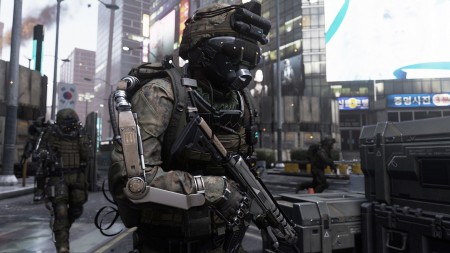 The online streaming video service has reported that the newest Call of Duty has already become the most streamed game of 2014, just two weeks into its release. Over 75,000 broadcasters streamed the game last week alone, with over 26 million views of that content. Yes, million. Further, some 6 million unique viewers took part in that buffet of online gameplay, all of which totaled up to over 327 million minutes of streaming.
As you might imagine, Activision and Sledgehammer both are pretty happy about that.
"Since the Call of Duty community on Twitch is extremely passionate, we are not surprised that Call of Duty: Advanced Warfare set a milestone for most streamed console game of the year based on launch week comparisons," said Ernest Le, Director, Publisher & Developer Partnerships, Twitch. "Our community spent over an hour a day watching and engaging with people playing the game, illustrating the incredibly strong appeal of live interactive video."

"The response from the global community to Call of Duty: Advanced Warfare has been incredible, with millions of fans playing the new era of Call of Duty and even more watching the action unfold live on Twitch in its first week in the wild," said Michael Condrey, Co-Founder and Studio Head, Sledgehammer Games. "The team at the studio is thrilled to see players think the game we've poured our heart and soul into making these last three years is not only fun to play, but very exciting to watch," added Glen Schofield, Co-Founder and Studio Head, Sledgehammer Games.
Call of Duty: Advanced Warfare takes the classic shooter series into a semi-science fiction future, where PMC's rule and high-tech weaponry can turn the tide of any battle. The game has been performing well at retail and has garnered above average scores across the bards with the press. We reviewed it last week and stamped it with an excellent grade of 9.7, for it's near complete refresh of the series and well-done shakeup of the CoD formula.