SOCOM 3 and SOCOM: U.S. Navy SEALS Combined Assault might have hit the PS3 a while ago, but the original soundtracks for both games are on the way courtesy of La-La Land Records and, believe it or not, a fan petition.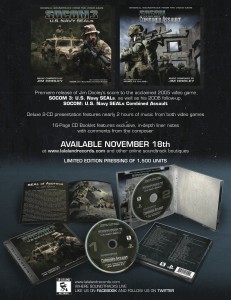 Jim Dooley is the man behind the music for both SOCOM 3 and SOCOM: U.S. Navy SEALS for the PS3. Both games were solid shooters in their own right, but it's the music and not the gameplay that we're talking about here. A decade after release, the OST's for both are reading to press as CD's, something that makes the composer very happy indeed.
The SOCOM 3 soundtrack is one that Dooley is especially proud of because not only was it his first A title video game, but it was also his first solo orchestral score. "I put so much love and effort into these games that I can't really express how happy I am that they are finally getting released" Dooley remarks. A few of his most notable titles since have included the feature films Obsessed and When A Stranger Calls, ABC's highly acclaimed television series Pushing Daisies, for which he took home an Emmy award and Epic Mickey, Epic Mickey Two: The Power of Two, and Infamous video games.
A fan-powered petition started things up for the OST double-pack when followers of Dooley and the games themselves got together online and made some noise. Now they've got their wish as the 2 CD set will feature almost 2 hours of music and include a 16 page booklet with "exclusive, in-depth linear notes with comments from the composer".
Said co-producer Dan Goldwasser:
 "It's exciting that we're able to finally release the music
from Dooley's great scores. I had worked with Jim on an original soundtrack
assembly back in 2007, but for various reasons, it wasn't able to move
forward.  I'm thrilled that we had this opportunity to work with the fine
folks at Sony Computer Entertainment America to put together an expanded
2-disc assembly." … "Putting together the album was not an easy task;
there is over three hours of music from SOCOM 3: U.S. Navy SEALs, and
just under five hours of music from SOCOM: U.S. Navy SEALs Combined
Assault.  With that much material to sift through, coming up with the
perfect album assembly that has an emotional flow, and is enjoyable to
listen to, is quite the challenge.  Jim and his team were incredibly
supportive through the whole process."
Look for SOCOM 3: U.S. Navy SEALS and SOCOM: U.S. Navy SEALS Combined Assault OST to arrive on November 18th at La-La Land Records online store and other online specialty retailers.