The last of The Clone Wars episodes gets a Blu Ray release, complete with a behind the scenes looks at how the long running show was made.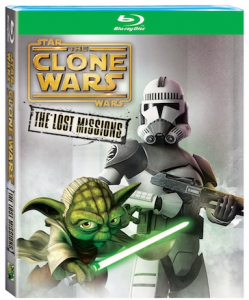 Although the rug was kind of pulled out from under the series, Star Wars: The Clone Wars had a pretty terrific run of six seasons. If you're wondering what I mean by that, it's pretty simple- when Disney bought Lucasfilm, there were all sorts of licensing issues that popped up and one of them involved The Clone Wars. Basically, it was kind of yanked from the Cartoon Network (where it was regularly broadcast) and that was that. All that happened last year, and before the sixth season of the show could even start up on the network.
Fast forward a bit past foreign (German)  and NetFlix airings of The Lost Missions and here we are, with a  Blu Ray release of the very last of the show's episodes. I was never actually a fan when The Clone Wars was on the air, though I'm hard pressed to relate why exactly. Every time I've managed to catch an episode, I really enjoyed it, but I never stayed with it and certainly never got too deep into any of the story arcs. It's gotten more than it's fair share of acclaim though, and with good reason from what I've seen in this collection.
Star Wars: The Clone Wars includes a full 13 episodes of the show, all of which are pretty much must-watch material for fans. This is the last of the last that the show has to offer after all, so if you watched The Clone Wars from start to finish, you'll need to see these episodes at some point to cap off the story of the show… well, as best as possible anyway. Though these are the last episodes, they're really not the final episodes. And that basically means that this wasn't to be the full final season of The Clone Wars, as the episodes included here are simply the last ones that were made before the plug got pulled.
That's not to knock what's here by any means though, just a recounting of what happened. Actually, pretty much every one of the episodes here are worth watching and are very satisfying for Star Wars fans of almost any era; prequel or original trilogy. I'm really not a fan at all of the prequel films and I found tons to like here, so take that as you will.
The Clone Wars looks good here too, visually, and the video quality is nice and crisp with a colorful pop. It's pretty much what you'd expect to see from a Blu Ray release, but I think it's worth mentioning anyway as I find that some cartoons are kind of pointless to watch on Blu Ray. The Clone Wars though, looks great and its CGI animation style shines, looking quite spectacular at times and almost cinematic.
If you've watched the show, then you probably know all about the cast already, but it's also worth taking the time here to say how terrific they are. Matt Lanter as Anakin Skywalker, James Arnold Taylor as Obi-Wan Kenobi, and Tom Kane as Yoda (who has a lot to do here) all do a great job, as does pretty much everyone else. It's always nice to see a great cast in an animated show, as it lends so much to the overall presentation, something you just don't get from live-action.
As far as extras go, there aren't a ton, but what there is is pretty neat. There's a 15 minute plus documentary about the creation of the show and what went into making the series, season after season, that details plenty about the creative process and life at the Lucasfilm ranch. Then there's also a series of Story Reels for a few episodes under the 'Utapau' arc. These reels are unfinished and show what an animated program looks like as it's going through the approvals process and has yet to be finalized. They're kind of funny too, thanks to the incomplete animation, and I have to admit I cracked up a bit as Anakin, Obi-Wan and a delegation of dignitaries as they glided across the floor, motionless. It's hard to imagine that something like that turns into a show animated as well as The Clone Wars.
Final Thoughts
I was more than a little pleasantly surprised by Star Wars: The Clone Wars – The Lost Missions. Not only are the episodes terrifically entertaining, but the little glimpse behind the scenes is super cool, even if it is part of a limited set of real 'extra' features. The only problem now is that I have to hunt down the first five seasons of the show and see what happened to get to this point.
Not a terrible problem to have though I suppose.