The classic tower-defense genre has been redefined and revolutionized – but it wasn't by this game.

Defense Technica is a straightforward Tower Defense game that does nothing new for the genre – and that's not necessarily a bad thing. The game features a diverse set of randomly generated monsters that try to find the shortest route from their spawn point to the player's core, which they then try to destroy with their weaponry or various attacks.
Standing in their way are Towers that the players build with the resources that they start with. Then they grow those towers with resources that you can pick up from the enemies that are destroyed, as they make their way to destroy the player's core. You'll find 22 different maps here in total, each with their own level of difficulty and their own unique monsters that the players have to destroy to keep their core safe.
The visuals in those levels don't look too bad, but they're not too good either. Defense Technica features a futuristic space theme that often tries too hard to be something above and beyond what we've already seen in games featuring properties like Star Wars or Mass Effect.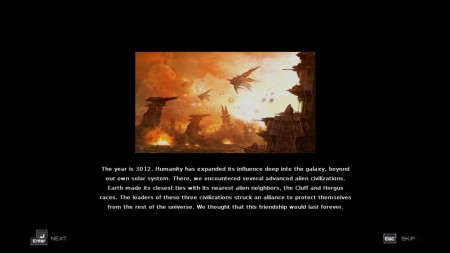 Though they may look average, the mere fact that the game tries to be something it's not is a bad thing – at least for me. Some of the 'unique monsters' don't even look unique at all! In fact, some of them are probably just color-swapped versions of each other; while that isn't game-breaking, it's definitely a big turn-off for someone like me.
In fairness to the game's art though, the towers (though they aren't anything new and innovative) look great and the various special effects that they have are cool to look at, so that's a good thing. Don't expect anything too great from the visuals of this game, but again, don't expect them to be overly bad either. They're really just plain average all around.
The music and sound effects in the game aren't anything to get too excited about either, but sound, if anything else, kind of cool. The game is trying for a very "tense" feel, and as the heavy sounding battle music plays on, the only things that I feel are valor and the need to kill things with my towers.
Granted, they're not orchestra heavy pieces of art ala Final Fantasy, but the music sounds like something from a John Carpenter Movie (see John Carpenter's Halloween Theme Song), and that's a good thing for me. I like how the battles feel mainly because of the music and the satisfactory sound effects of the player's SAM shooting down an enemy squadron, or the player's Machine Gun turret as it guns down theenemy infantry, everything is pleasant to hear. Again though, they're nothing new, just good in an average way.
The story isn't anything special either (I'm sensing a theme -ed). It's the run-of-the-mill Alien Invasion story and this isn't given any exposition save for the slight updates or references given in the Map selection screen. Granted, this game isn't fun for its story, but if a game presents a story, then I think that it is only fair enough to at least try and tell that story properly and conclusively, not finish on a very unimpressive and inconclusive mood. This is probably the lowest point of the game. Again, to be fair, I really don't think that the story is what drives and makes this game what it is.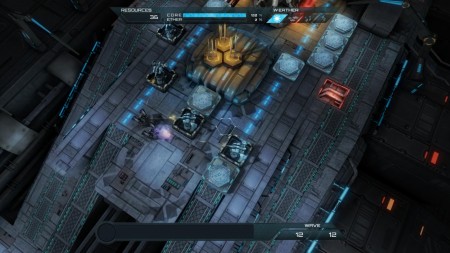 Defense Technica's controls revolve around using the mouse. Players use the mouse to view the map and set-up turrets. Upgrading those turrets and selling them off for more cash are done with the mouse too, and this is the same for the main menu. It's fairly convenient and the controls are easy to learn, as most of the basics are explained during the first couple of campaign maps. The mouse is the primary controller throughout and the in-game cursor seems to be responsive enough to not be a hassle.
The game features varied choices for Turrets as well. In all, you'll find Towers that have Machinegun, Blade, and SAM (Surface-to Air Missile) functionality, as well as a few more. They aren't anything I haven't seen in other Tower Defense games, but they sure re nice to look at, especially when they're blowing stuff up.
Final Thoughts
Defense Technica is an average Tower Defense game. The controls are okay, the visuals look good enough and the music is admittedly pretty cool, so if you're a fan of Tower Defense games, this game is probably for you.