The upcoming OGN from Marvel is set to be packed to the rafters with angry robots and Avengers.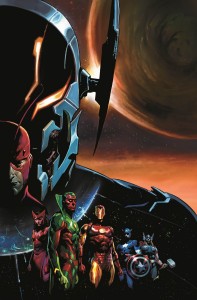 Marvel Comics' new OGN (Original Graphic Novel) line is really set to heat up with this Spring's offering, Avengers: Rage of Ultron. Set to hit about the same time as the new Avengers feature film (fancy that), Rage of Ultron will feature two different sets of Earth's Mightiest Heroes and a story that spans generations as Ultron returns once again.
Setting the tone of that tale will be artists Jerome Opeña and Dean White, who've cooked up a cover for the ages, and one that apparently holds a few Easter Eggs for fans.
"This cover holds a ton of secrets," says Avengers: Rage of Ultron writer Rick Remender speaking with Marvel.com. "There are Avengers from two different eras, and the story takes place in both of those eras. This is some of Jerome and Dean's best work and the story promises to be nothing short of Earth shattering for the Avengers."

"When you release a cutting-edge graphic novel featuring some of the greatest pop-culture icons in the world just in time for their next summer blockbuster, you go big," says Tom Brevoort, Executive Editor. "That's why we brought out some of the industry's top flight talent, Rick Remender, Jerome Opeña and Dean White for an unforgettable adventure that will redefine Ultron, one of the Avengers' baddest villains for old and new fans alike."
Ultron's newest scheme is a big one. No, literally. He's taken command of the computer core on Titan, the moon of Saturn that's been home to the Eternals and Thanos of Titan himself (hence the name). And of course, as Ultron is want to do, he's set to use his newfound bulk against the Avengers and Earth.
Standing in his way is his 'father', Hank Pym. This time around, the means to defeating him will levy a terrible price for the Avenger and scientist. Rage of Ultron will be released exclusively in a graphic novel format (meaning it won't be broken up into a mini-series first) this coming Spring, in April 2015.