Anyone out there with an Xbox One or PS4 who might be looking for a little Halloween scare? Here's your game. Oh, and uh, there's a sort-of announcement of a third season in there too.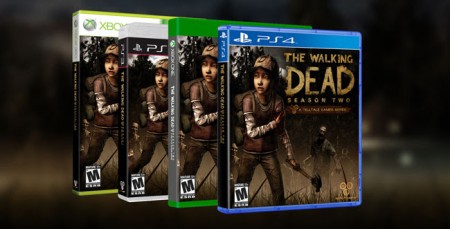 Telltale Games' modern classic has finally made landfall on Sony and Microsoft's next generation consoles in the form of a retail packaged disc and digital download, which will be available via Xbox Live on the Xbox One and the PSN on the PS4.
If you haven't played this one yet, let me make it really simple for you- The Walking Dead is not only one of the best adventure games in recent years, but it's also one of the best games period to grace consoles, handhelds, mobiles, and the PC. Season 1 was a true classic of the genre and season 2 has been almost as incredible, with all the hallmarks that you'd expect from a Telltale game. With the Xbox One and PS4 release, it's pretty much playable on any piece of relatively popular hardware too, so you might want to get to it.
"Since the series premiere in 2012, the team has been incredibly proud to continue breaking new ground in the art of interactive drama as part of Robert Kirkman's award-winning universe," said Kevin Bruner, President and Co-Founder at Telltale Games. "Now available on over six thousand devices from console to mobile, the Xbox One and PlayStation 4 formats usher in an even greater reach for Telltale, and we're excited to be preparing players across the world for a thrilling third season that's yet to come."
And was that an announcement of a 'season 3' right there? Looked like it to me. Of course, there are no details as of yet, but if you needed any confirmation that there was going to be another season, well, you've got it.