Heading to Comic Con this week? Stopping off at the Marvel Comics booth? Here's the full list of the goods they'll have (hopefully) in stock when you get there.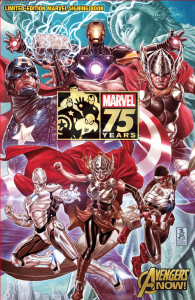 As they're want to do with their panels and signings, Marvel has also started to offer plenty of really neat stuff for sale at their Comic Con booths. For this year's NYCC, the publisher will have a plethora of items at the booth shop including a special variant of Thor #1, that Rocket Raccoon plush you might have seen at SDCC, a unique Daredevil tee, and a Groot 'heat activated' coffee mug (I am Coffee?) among other items.
Then there'll also be that awesome Marvel 75th Anniversary tome. The book is only available at the Con and showcases the biggest moments from throughout the company's history complete with all that classic artwork from some of the greatest artists in comic history.  Oh, and there's plenty of room for signatures too, which you can collect plenty of at the Marvel booth this year.
You can check out what'll be on sale in the gallery below, and don't forget that if you can't make it to the Con in the big city, you can still follow along at home via Marvel's site. True, you won't be able to buy any of this cool stuff, but you can at least see what's happening at the booth in the middle of what's become one of the biggest shows of the year.