Turn 10 has announced that there'll be no DLC made available for Forza Horizon 2 on the Xbox 360.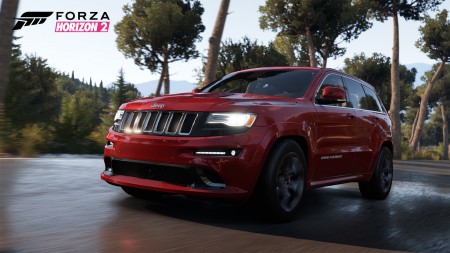 In an age where DLC is as common as boxed retail games, this is kind of an oddball announcement. Nonetheless though, it looks like Forza Horizon 2 gamers on the Xbox 360 will not be getting any of the planned DLC or 'rewards' that are on the way to the Xbox One version.
Available in the DLC pack Mobil 1 are a total of six cars including the 2015 Jaguar F-Type R Coupe, the 2014 Jeep Grand Cherokee SRT, the 2013 Renault Clio RS 200, the 1988 Volkswagen Scirocco 16v, the 1957 Maserati 300 S and the 1988 BMW M5.
Also kind of strange (though somewhat inconsequential) is that there are actually two different developers for the 360 and One versions of Horizon 2. Playground has produced the the Xbox One edition, and Sumo is cranking away on the 360 DLC-less version. That's honestly kind of strange since the two editions of the game should be more or less the same, just with different graphics (and DLC accessibility). Not that it should make all that much of a difference.
Source: MCV
*pictured are the cars form the Mobil 1 pack for the Xbox One