Matt Kindt and Jason Hall's collection of crime stories comes to Dark Horse with a deluxe presentation.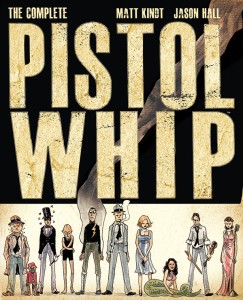 Pistolwhip, if you don't recall the name, goes all the way back to 2001 and tells a set of "intricate mystery stories". It's also the big breakout book that made Matt Kindt and Jason Hall mainstays in the comic book industry. If you're a fan, you're not going to want to miss this, and if you're not… well, you're in for a deluxe treat.
Contained in this new deluxe edition hardcover book will be both Pistolwhip volumes, along with the Mephisto and the Empty Box one-shot, and  Maverick: Happy Endings. All the original stories in the book  are interconnected and have more twists than a pretzel… and that's actually one of the characters in the book- the Human Pretzel.
Pistolwhip will be along on April 15th, 2015, and Kindt fans should mark their calendars for another book from the writer/artist as his 2 Sisters will be on the racks (also from Dark Horse) next September.