Ready for mutation? Since it means massive discounts on some pretty awesome PC games, I'm going to assume the answer is 'yes'.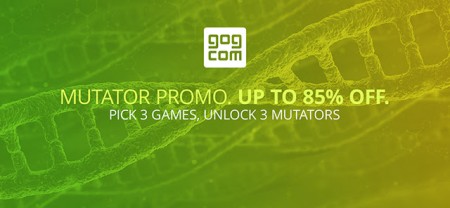 So lets dig right into this one since it's kind of interesting. As usual with GOG, a simple sale won't do and the company has launched a pretty cool little promo called the Mutator Sale. Here's how it works:
You click through the front page ad for the sale on GOG.com and then pick three games that you want to buy off of an already heavily discounted list that will keep changing throughout the duration of the sale time. After you've made your choices, you select one, two, or three of the 'mystery' mutators on the top of the page (not that you have to to make a purchase on the discounted games). These mutators will affect not the games that you have in your cart, but ones that'll be revealed to you after you're done with your purchase.
The games that are offered are a complete mystery till you finish up buying the games that you chose off the list and could be anything from a "$5 game to a $45 one". Pretty neat right?
The list changes in about 12 hours form this writing, and the sale will last for 6 days, so make sure you check back in often and grab those mutators if you're buying! Hit the link for the main page.