Never one to be without some awesome exclusive items, Dark Horse Comics has revealed their official lineup of goodies for NYCC 2014.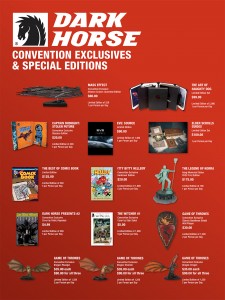 There's a lot of awesome stuff in that image, but I think the top dog (pardon the pun) has to be that Art of Naughty Dog hardcover set. limited to one purchase per person, per day this one is limited in number as well and will only be available in an allotment of 2,000 copies. Once they're gone, they're ton folks, so if you're a big Naughty Dog fan (Drake, Crash Bandicoot), this is the one you're gonna want to take home from the show.
Now, if you're not that big of an ND fanboy or girl, there's still a pretty broad swath of awesomeness for you to target at the Dark Horse booth come this Thursday. The Mass Effect Alliance Cruiser (coated in a special gunmetal paint app), the Stannis Baratheon wall plaque, the Elder Scrolls Guide set, that Captain Midnight slipcased box set and more are all worth a serious look. And don't forget about the con exclusives like the Dark Horse Presents #2 and that variant of The Witcher #1- both super-cool special editions not available anywhere else.
Dark Horse will be located at booth #1636 on the show floor and the New York Comic Con will run from this Thursday through Sunday at the Jacob Javits Convention Center in Manhattan. Click the link for a closer look at what the Horse will have in its stable this week.