Looking for a big, bad dragon to accompany your Lord of the Rings and The Hobbit toys on your Middle-earth shelf? Look no further.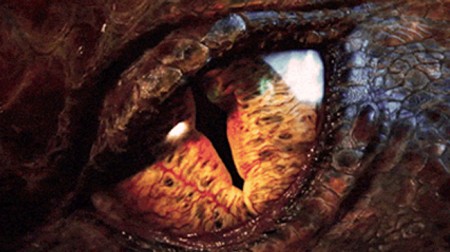 Kind of a surprise, since there was really nothing announced on this long-awaited figure for ages, but Smaug is almost here. Set for release before the end of the year and just before the launch of the final The Hobbit film (The Battle of Five Armies), this gold-hording beast is a truly massive toy and should be something of a centerpiece for any collector's shelf.
With a nearly two-foot wingspan (22 inches) and a height of 21″, Smaug is not to be trifled with, especially not by tiny Hobbitses action figures. He'll also sport 10 points of articulation, some terrific looking sculpting, and a staggering 140 "painting procedures". As you might imagine, something like this isn't exactly 'mass market' though, and is currently pre-saling on WBShop.com. They won't last forever either, as the figure will only be produced in a 3000 piece lot. That might sound like a lot off the bat, but think about how many LotR fans there are out there who've been itching to add a Smaug (who's never been released in toy form) to their collections.
You'll also be getting a secret bonus with the big guy, as The Bridge Direct has announced that there'll be a 1.5″ action figure and an accessory in the box with the dragon. Just what those might be is still under wraps, but you'll find out if you pre-order yours for launch on December 9th. Smaug will cost you $69.95 USD, which really isn't bad for something like this either.
We'll have shots as soon as possible, but in the meantime, you can click through to the pre-order page to see Smaug in all his glory.