Your Super Mario is about to get some brotherly accompaniment.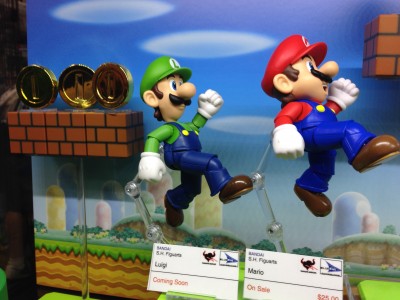 There was some awesome-looking Injustice stuff on display at the Bandai booth on the show floor at SDCC (as you can see below), but it was the single addition to their blossoming Mario line that grabbed the lion's share of the attention. Luigi is headed towards plastic immortality and will be joining his Nintendo bro some time soon as a part of the new series.
Slated to come complete with a grassy base, a red shell, hands for holding that shell, a 'brick' block and more. Much like Mario, he's got a fare little setup right out of the box. If however, you'd like to get a little more bang for your buck, there's also set to be another expansion in the same vein as the one that released with Mario just a short time ago.
This pack will include a Buzzy Beetle, two red warp pipes, a gold coin, and a Piranha Plant to stick into one of those pipes. Slowly but surely, Bandai's version of the Mushroom Kingdom is expanding and as a huge Nintendo fan, I absolutely love it. I'm just hoping that they don't stop at the bros though. Although I'm sure they won't, we definitely need more of these super-posable bad boys.
If you're reading guys, Koopa Troopa, ShyGuy, (big old deluxe) Bowser, and some smaller minions like Bullet Bills and Boos are a necessity. You hear me?! A necessity!!
Anyway, Luigi and the new accessory expansion pack will both be out this coming January or thereabouts. Make sure you pick 'em up so we get more. Because we need more. ASAP.