Phoenix Online Studios, together with Pelgrain Press, are about to expand the Lovecraftian world of The Last Door.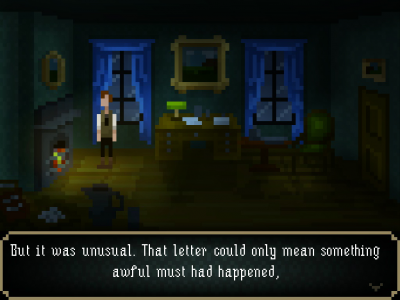 A free novella based on the horrific universe created in the HP Lovecraft-infused The Last Door adventure game is set to tell the tale of what happened before the game begins. Written by David Conyers, The Five Arches will be free in PDF format for anyone who subscribes to the Phoenix Online newsletter this August.
Conyers is a prolific writer who's penned in excess of fifty short tales and currently writes an "on-going Lovecraftian sci-fi espionage series", which sounds completely insane… in a good way. Aside from the PDF with the story, you'll also get discount codes for $5 off at the Phoenix Online Studios web store and an offer for a massive $20.00 USD off the Collector's Edition of The Last Door.
Then there's the contest. If you think you've got the horror chops, the pair of publishers are inviting you to put your pen (keyboard?) where your mouth is and write a 140 character 'flash horror story'. Five winners will receive a PDF of the Pelgrain Press novel of their choice including titles like Trail of Cthulhu, 13th Age, and Night's Black Agents.
The winning entries will be named on August 12th, so you've still got a little time to dream up something spooky. When you do, email that 140-word nail-biter to [email protected] and you'll be on your way to elder god immortality… or at the very least a free story. Both are pretty good.