Toys R Us' selection of show exclusive items is impressive with a little something for everyone, pretty much all of which is awesome.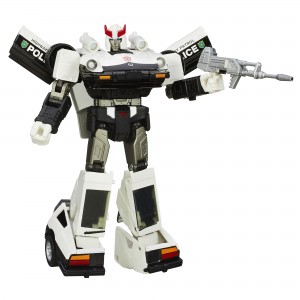 Show exclusives are always one of the most fun parts of Comic Con and this year seems a little extra packed with goodies. TRU is adding to that pile now with their official list of what you'll be able to pick up at the show of shows next week in San Diego. Star Wars, classic G1 Transformers, Ninja Turtles, G.I. Joe, and plenty more will be on offer at the Entertainment Earth booth (#2243) from Thursday the 24th through the end of the show on Sunday the 27th.
Even if you're not going to be there though, you can still grab some of this great merch by logging onto Toys R Us' special online sale page on July 24th. You won't find everything there, but there's promised to be a decent selection. And much like the show itself, everything will be first come, first served. SO GET THERE EARLY… bot physically and digitally, depending.
Toys"R"Us Exclusives Available Only at San Diego Comic-Con Include:
BATMAN The Joker 

from Schleich® From the new DC Comics Collection comes a Toys"R"Us exclusive Joker figure. Celebrating Batman's 75th anniversary, this highly detailed figure is the first in an all-new line of collectible figurines based on DC Comics iconic characters and will be available for conventioneers for $10.

G.I. JOE DANGER AT THE DOCKS: URBAN ASSAULT 2-Pack 

from Hasbro® Flint is armed and ready to stop the Cobra Eel Trooper from slithering onto shore from the sea in this detailed vehicle set. Flint will chase him down in his V.A.M.P. MK-II Multi-Purpose Attack Vehicle, but the Cobra Eel Trooper has a fast Night Raft to help him make his escape. Fans can find out who prevails in the fast-moving Cobra-G.I. duel for $30.

Jay and Silent Bob Strike Back 2-Pack

 from Minimates The comic book heroes created by director Kevin Smith and featured in Jay & Silent Bob Strike Back are now available in the form of Minimates mini-figures. This Toys"R"Us exclusive 2-pack set is based on the characters' distinctive comic book appearances. Each Minimate stands 2-inches tall and has 14 points of articulation, along with a variety of interchangeable parts. Convention goers can purchase this Diamond Select Toys™ item, which is designed and sculpted by Art Asylum, for $10.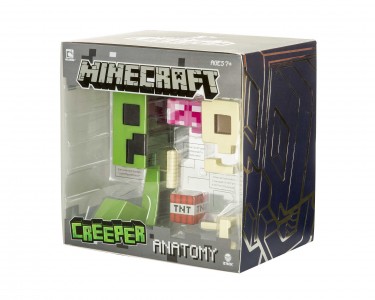 Winged Fairy Maleficent 

from Minimates

 Fans of the movie can recreate and relive the fierce and exciting battle scene from the hit Disney film Maleficent with this highly detailed doll. Maleficent is ready to seek vengeance, but is still stylishly dressed in a fitted black body suit with knee high boots, dramatic black wings and elegant horns. This Toys"R"Us exclusive, true-to-character doll can be purchased by fans for $30.

Toys"R"Us First-Look Items Coming Soon to Its Stores Nationwide:
MINECRAFT™ Creeper Anatomy

 

from Spin Master™ The most iconic MINECRAFT™ enemy comes to life as this premium vinyl figure. Kids will love discovering what makes this exploding monster "tick" by dissecting and re-assembling its body, skeleton and "TNT" core. Perfect for collectors, this one-of-a-kind item features a window display packaging with foil printing, including detailed info regarding the creature's anatomy. Convention attendees can sneak home with this item for $40.
MY LITTLE PONY EQUESTRIA GIRLS ZECORA from Hasbro® Full of high-style and fashion secrets, EQUESTRIA GIRLS ZECORA is a true punk rockstar. With wild hair, sassy boots and a dramatic outfit, ZECORA is on-trend and ready to rock out with her pony friends. Complete with a clip-in ponytail, fans can dress ZECORA up to create the best EQUESTRIA GIRLS look ever. This collectible figure can be purchased for $20.

MY LITTLE PONY QUEEN CHRYSALIS 

from Hasbro® Convention goers can be a part of the "Ponymania" with this electronic QUEEN CHRYSALIS pony. This royal pony wants to take over Equestria, and only the magic of friendship can stop her. QUEEN CHRYSALIS talks as her blue wings illuminate and move, and her blue mane can be styled with the included comb and barrettes. This pretty pony can gallop home with fans for $25.

POWER RANGERS Mighty Morphin' Legacy Lord Zedd 

from Bandai™ The original Mighty Morphin' Power Rangers come to life in this collectable 5-inch figure. Highly detailed to include show-accurate styling, Lord Zedd comes with multiple points of articulation and muscular, heroic design, and is perfect for play or to put on display. Complete collectable legacy packaging styled after the original Mighty Morphin' figures released by Bandai America in 1993. This figure is available to Power Rangers collectors and kids for $20.
Star Wars™ Black Series Cantina Showdown from Hasbro® Recreate the biggest Star Wars™ battles with figures from The Black Series. Han Solo and Greedo face off in the Mos Eisley Cantina. Han has been dodging the bounty hunter for a long time, but at last Greedo has tracked him down. This set includes two highly articulated 6-inch figures that are part of the ultimate Star Wars collection. Both figures have holsters and blasters, and the Han Solo figure has an extra set of hands. Star Wars fans can add this to their collection for $40.

Teenage Mutant Ninja Turtles® Classic Figure Collection 

from Playmates

 Available for the first time, these classic figures are based off the original Turtles character costumes created by Jim Henson Productions for the classic 1990's Teenage Mutant Ninja Turtles® movie. With 34 points of articulation, signature weapons and a personalized sewer lid name plate, they are a perfect re-creation of the old school Turtles that busted onto the movie screen and changed the Turtles world in a big way. Fans can take home these fun-loving and pizza-eating teen Turtles for $20 each.

TRANSFORMERS Masterpiece Prowl 

from Hasbro® Prowl is a clear thinker who is able to see beyond the chaos of battle and discover the rational route to victory. His logic center is the most sophisticated in the Autobot army, capable of analyzing complex combat situations and making strategic decisions almost instantaneously. Unexpected events have been known to briefly scramble his circuits, but there isn't much this Autobot doesn't see coming. As much as his fellow Autobots would like to see Prowl loosen up and crack a joke once in a while, they recognize that what makes him so brilliant on the battlefield is what makes him so disciplined off it. Conventioneers can take home this sneak peak item for $70.

TRANSFORMERS

 Masterpiece Sunstorm from Hasbro® Fly too close to the sun and get burned. Get too close to Sunstorm, and get dissolved into a puddle of liquid scrap. Autobots beware, because this ultimate Decepticon flier is on the hunt for someone to fight. He converts from robot mode to fighter jet mode, and in either mode he's armed for major combat. His canopy and nose cone open in jet mode, and his hidden missile pods deploy when he gets an Autobot in his sights. And, don't forget to set him on his stand when the fight is over for the day. Fans can get this high-flying Decepticon with incredible battle features for $80.
All Toys"R"Us exclusive items are limited editions and will be available on a first-come, first served basis, while supplies last.