Well now, this is a surprise. For the first time ever, Fire Emblem gets four, count em four representatives. Not only that, but everyone's favorite captain is back in the game.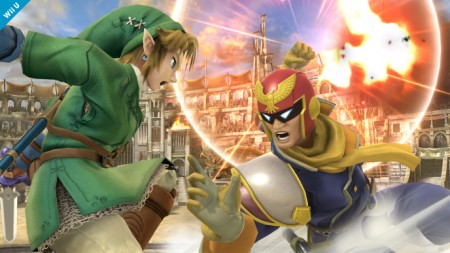 The reveal trailer starts out showing Lucina fighting Captain Falcon, though she appears to be having a bit of trouble. With her father Chrom lying on the ground, it appears as though there's no hope for her. However, just as she's about to be defeated, a mysterious green looking beam interrupts the final blow Captain Falcon was going to deal. Robin, the tactician from Fire Emblem Awakening steps in. Just as you would expect, he has an interesting mix of magic and melee, mainly attacking with a Levin Sword. Lucina steps in to fight, attacking characters like Luigi, eventually teaming up with Robin to fight Marth and Ike. I was totally off the mark, I didn't expect a characters like Robin or Lucina to be revealed today.
It's fun to speculate, but it does serve as a reminder that we shouldn't just take everything at face value. Release dates don't always coincide with Super Smash Brothers reveals, and sometimes a trophy is just a trophy. Still, this was satisfying all the same. Anyway, for those of you like myself who wanted Chrom in, unfortunately he won't be making it. He'll be Robin's final smash, but that's about all we can expect. Don't forget to check out the fresh batch of screenshots that Nintendo posted on the official site of Super Smash Brothers.