Wadjet Eye's series of classically styled adventure titles is now available for your pointing and tapping pleasure on iOS.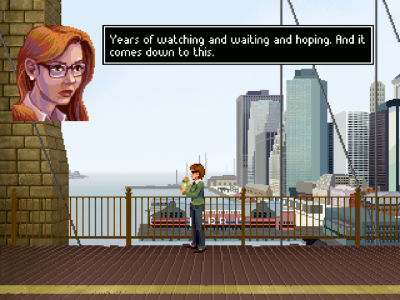 Starring Rosa Blackwell (hence the name) "an antisocial writer and reluctant spirit medium" and Joey Mallone who's a ghost tethered to her, the Blackwell series is pretty rich in storytelling. Each game in the set has its own self-contained story and all of them tie together to form a much larger plot. Both characters are playable as well, and you'll need to use each of their specific skill sets to complete the quests.
Right now, Blackwell's 1, 2, and 3 are available on iOS (and PC) with Android, Mac, and Linux versions in the works.
Blackwell 1: Legacy

 – 

https://itunes.apple.com/app/blackwell-1-legacy/id886212870 

When Rosa Blackwell's aunt Lauren dies after twenty years in a coma, Rosa thinks the worst is over. This all changes when Joey Mallone, a sardonic ghost from the 1930s, blows into her life and tells her that she is a medium with a family legacy to uphold (whether she likes it or not). And when a series of suicides occur at a local university, Rosa — still coming to terms with her new responsibilities — finds herself an unwilling detective in this gruesome mystery.

Blackwell 2: Unbound

 – 

https://itunes.apple.com/app/blackwell-2-unbound/id888936471 

The year is 1973. The sound of a lone, ethereal saxophone drifts over the Roosevelt Island promenade, while a series of accidents plague a midtown construction site. The citizens of Manhattan take no notice of these events, let alone think they are connected. Embittered medium Lauren Blackwell and her spirit guide Joey Mallone are the only ones who believe that there is anything strange going on, and they are the only ones who can stop an enigmatic killer from striking again…

Blackwell 3: Convergence

 – 

https://itunes.apple.com/app/blackwell-3-convergence/id887173166 

A new film opens to rave reviews, despite its bloody history. A beautiful uptown office remains unoccupied, despite its prime location. A downtown artist berates himself for selling out, while a Wall Street investor congratulates himself on a job well done. Just normal life in the big city? Or is something more sinister binding these events together? Bizarre connections are a dime a dozen for the Blackwell family, but just how far back to they go? Medium Rosa Blackwell and her spirit guide Joey Mallone are about to find out.
As far as pricing for the trio of adventures, the first title is currently sitting at $2.99 USD while the second and third games are priced at $3.99. Those prices are a dollar off of what they'll be on a permanent basis, a price that they'll jump up to after the 17th of this month, which is in a few days. And if you're looking for more Blackwell after you're done with these three, you're going to get your wish as Wadjet Eye plans on having the remainder of the series out on iOS later this year along with more games in their back catalog.