So Alien fans are most definitely going to want to pre-order.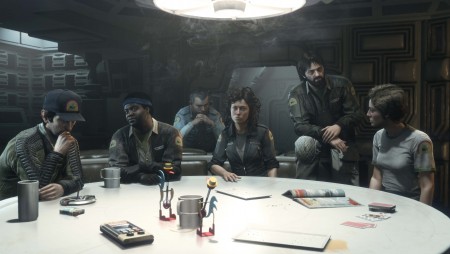 "Working with the original cast has been an incredible experience," said Alistair Hope, Creative Lead on Alien: Isolation. "It was important to us to have the key original cast members reprise their roles in order to perfectly capture the atmosphere of the movie. For some of the original cast, this is their first appearance in an Alien video game. Seeing them reprise those roles after 35 years was an unforgettable experience."
Unforgettable indeed. The original Alien film is still something of a high-water mark for the science fiction meets horror sub-genre and actually playing through a bit of it is a treat for fans of the Ridley Scott, 1979 original. As you might imagine, you won't be playing throughout the entire film though.
You will have some very familiar company however. The entire original cast save Ian Holm's Ash (which'll be voiced by a soundalike) is on board and will be present for the missions. So that means Sigourney Weaver (Ripley), Tom Skerritt (Dallas), Veronica Cartwright (Lambert), Harry Dean Stanton (Brett), and Yaphet Kotto (Parker) will all not only look, but sound exactly like you remember from the film. That's just plain neat. The Nostromo Edition of Alien: Isolation (which is a free upgrade for anyone who pre-orders) includes two segments overall, with one of them being a GameStop exclusive.
The first is called "Crew Expendable" and casts players as Ellen Ripley, Dallas or Parker in the time after their fellow crew member Brettwas slaughtered by the lone xenomorph on board. You'll explore the original ship (the Nostromo) from the first Alien movie as you move from the habitation deck through main engineering and coordinate with Lambert and Ash to lure the Alien into the airlock and blast it out into the void.
As for the second downloadable episode and GameStop exclusive prize, "Last Survivor" is all-Ripley as you'll have to make your way through the doomed ship to activate the self-destruct sequence and then get to the escape pod (the Narcissus) before the xeno traps you. It's pretty awesome and, once again, can only be gotten by pre-ordering at GameStop.
Alien: Isolation tears into the Xbox One, PS4, Xbox 360, PS3, and Windows PC on October 7th.