The Collector's Edition of the upcoming open-world action-fest will include extra in-game missions and plenty of real world extras for series fans to play with.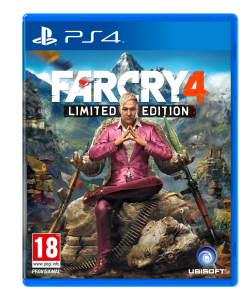 With a game as big (figuratively and actually) as Far Cry 4, there was bound to be a special Collector's Edition on the way and here it is. And man, is it a behemoth. Collected inside the exclusive packaging will be the full set of contents from both the standard and Limited Editions of the gems as well as a laundry list of cool little items to display on your desktop or shelf of gaming awesomeness.
The Far Cry 4 Ultimate Kyrat Edition features:
Hurk's Redemption: Three action-packed single-player missions featuring Hurk, the popular Far Cry 3 character
Mission 1: Fight dangerous enemies in the ice caves of snow-capped mountains to retrieve a rare artifact.
Mission 2: What's better than riding elephants? Fighting waves of enemies on an elephant with Hurk by your side.
Mission 3: In this epic finale, chase down an enemy convoy in a gyrocopter and save Hurk from certain death.
Hurk's exclusive Harpoon gun "the Impaler"!
A 20 cm figurine of the game's villain Pagan Min seated on an elephant throne
A travel journal to record your own adventures
A Pagan Min Propaganda Poster
The game Map
The Far Cry 4 Season Pass
The exclusive future pack™ Metal Box
An exclusive collector case
Far Cry 4: Ultimate Kyrat Edition is pre-orderable right now from the Ubi Shop and additional retailers. Far Cry 4 (in all its forms) hits stores this November for the Xbox One/360, PS4/3, and PC.