Stars and stripes and Grand Theft Auto.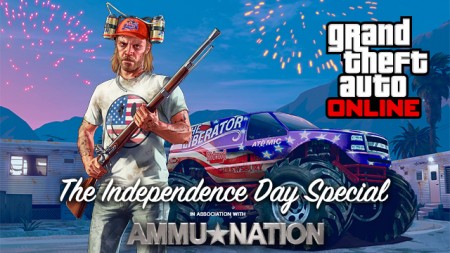 Well I think that banner says it all doesn't it?
The GTA Online Independence Day Special is more than just pomp, circumstance, and beer-hats though; the pack actually includes a ton of new toys to play with in Rockstar's online sandbox, as well as a few new properties to purchase.
Both the Sovereign motorcycle and the "super-sized and extremely tough" Liberator monster truck will be included to drive, and you'll get two new guns to shoot off in the musket and Firework Rocket Launcher. That one sounds like a good time.
You can also grab a total of 7 new properties spread out across Los Santos and Blain County and fresh for the interaction menu will also be the ability to place and set off fireworks, for that true July 4th feel. You can buy your ordinance at the local Ammunation store in the game, where you'll find a total of 12 different varieties of 'works, and you can even craft your own displays, complete with timing thanks to differing fuse lengths on the explosive-pretties.
As for new clothing and style choices, you can pick up the "Made in the U.S.A." t-shirt, sport a "backwoods mullet", and even don a mask featuring the visage of the national symbol, the bald eagle. Oh, and if you're looking for a little good, clean fun, you might want to check out Pleasure Pier, as you'l be able to ride the Ferris Whale and Leviathan Roller Coaster.
There are a bunch of fixes included here too and Xbox 360 gamers will need to download a compatibility update to run The Independence Day Special. You can get the full skinny on what's what with that here on the official site. Just act fast if you want a piece of this download as it's called a 'Special' for a reason, that being that it'll only be here for a limited time.
Just when the deal is set to expire hasn't been announced yet, but Rockstar has a lot more on tap for this Independence Day week, and there should be a bunch more announcements before it's out.