The origin story of the main baddie from Silent Hill Downpour is revealed in Silent Hill Downpour: Anne's Story.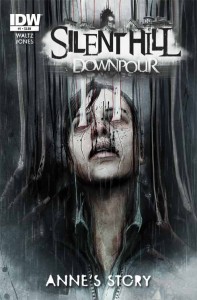 Ready to go back into Konami's world of survival horror and high-strangeness? Get ready for more of the series signature brand of horror as we lean the story behind prison guard Anne Cunningham.
Introduced in Silent Hill Downpour, officer Anne Cunningham set out on a bloody quest for revenge. The mystery surrounding her journey to Silent Hill, and the terrors she faced upon her arrival will finally be revealed, giving readers an entirely new perspective on the acclaimed video game.
The book will spring to life via the art of Tristan Jones, who you might know from his work on Ghostbusters (a favorite of mine R.I.P.), and writer Tom Waltz. If the writer's name rings a bell and you're a Silent Hill fan, that's probably because this isn't the first time he's been to the town caught between realities. And unlike most people who find themselves trapped within the lonely, haunted streets of the city, he's very happy to be back.
"This will be my fourth foray as a writer into the dark side streets and alleyways of everyone's favorite haunted vacation town and I couldn't be more excited," said Waltz. "More so because we finally get to share Anne Marie Cunningham's canonical backstory, a mystery only hinted at until now. In our new story we can finally present all her grim and dirty secrets to Silent Hill fans, old and new alike."
Look for Silent Hill Downpour: Anne's Story to arrive on the racks this coming August from IDW.