It was another big week from Diamond Select Toys this past week as all new stuff from some heavy-hitting brands landed in stores.
Lots of neat 'stuff' hit stores this week from DST. It's mostly not your usual stuff and you won't find any Minimates, in this week's drop (though you will find one Marvel Select figure), but you will find some super-cool stuff that you can actually use around the house.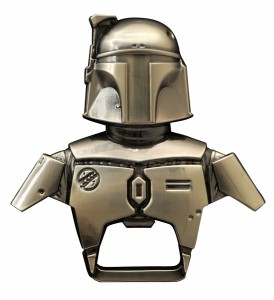 Boba Fett bottle opener? Yep. Pulp Fiction pint glass? Why not. The Walking Dead ice-cube tray? Oh yes.
Star Wars Boba Fett Magnetic Metal Bottle Opener
Boba Fett? Where? On your brand-new bottle opener, that's where! Make sure you always have a way to open tasty beverages with this solid metal bottle opener, depicting the portrait of Boba Fett, super-cool bounty hunter extraordinaire! It measures 4 inches long, has magnets on the back and removes bottle caps like Boba Fett captures a bounty — with style! Comes packaged in a collector's slip case with a full-color wrap. (Item #JAN141922, Suggested Retail Price: $18.00)

Pulp Fiction Jack Rabbit Slim's Pint Glass
The next movie to get the Reelware treatment from DST is Quentin Tarantino's groundbreaking film Pulp Fiction! Celebrating the film's 20th anniversary, DST is taking fans inside the world of the movie with a 16-oz. pint glass from the famous Jack Rabbit Slim's restaurant. Whether you fill it with a five-dollar milkshake or another tasty beverage, the Jack Rabbit Slim's logo will always remind you of the first time you watched Vince and Mia do the twist. Packaged in a window box. (Item #MAY142227, SRP: $10.99)

Walking Dead Zombie Heads Silicone Tray
Party like the Governor with this all-new Walking Dead silicone tray! Based on the comic book artwork of Charlie Adlard, this flexible tray can be used to cast up ice, gelatin and even chocolate in the shape of a half-dozen zombie heads, as well as the famous Walking Dead comic book logo! Fill up the fishtank and let the fun begin! (Item #JAN141924, SRP: $15.00)

Marvel Select What If? Captain America Figure
During the epic superhuman Civil War, rivals Captain America and Iron Man fought each other tooth and nail. But what if they had worked together? This 7-inch-scale Marvel Select figure depicts Captain America as he appears on the cover of What If? Civil War #1, wearing a suit of armor designed for him by Tony Stark himself. Cap features 16 points of articulation and includes his trademark shield, a deluxe "blast-off" display base, and a removable display stand. Figure comes packaged in display-ready Select packaging, with spine reference artwork. (Item #FEB142062, SRP $24.99)