Board game maker Common Ground is bringing a little old school gaming to QuakeCon this year.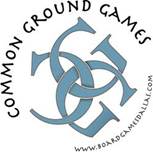 The brand new Table Top Village will be located in QuakeCon at the BYOC area and Common Ground Games, with the help of DFW Nerd Night will be on hand for this first-time event (for QuakeCon anyway) to host some special events for showgoers. And don't worry, Common Ground promises there'll be something for very skill level.
The festivities kick off at Friday Night Magic on July 18th at 7:00pm central as the release of release of the 2015 Magic the Gathering Core Set (M15) is celebrated. Anyone of any skill level attending can participate in the sealed event and more games will be hosted all weekend long, provided there are at least 8 players on hand.
If Magic isn't your thing, then you might be interested to know that a Ticket to Ride Tournament will also be held on Saturday, July 19th. Even better, a copy of the 10th Anniversary Ticket to Ride is on the block and can be yours if you win. In addition, demos, a retail space and more will be open and ready for visitors from noon to midnight on Thursday July 17th through noon on the 20th (which is a Sunday).
For more info on QuakeCon, make with the clicking.