Spider-Man makes the jump to Avenger and it looks like the comic book 'Spider-verse' storyline might be coming to the show in the new season of Ultimate Spider-Man: Webbed Warriors.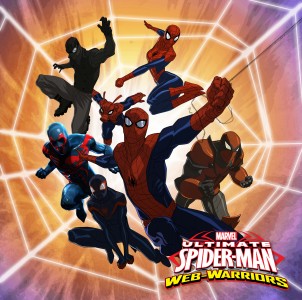 BIG changes are in store for the Spider-Man wing of Marvel's Cartoon Universe. Not only will the show be crossing over with Marvel's Avengers Assemble cartoon (also on Disney XD) and casting the web-head as a member of the team (which he is in the comic books), but we'll also get a multitude of new characters (including Agent Venom) and see the Spider-Verse storyline pop up in some form or another. In all, it looks like the show is moving from the 'classic' Spider-Man continuity into a more Marvel NOW! age with the character and story lines reflecting that.
If that means that we're going to get stories that run concurrently (or just behind) what's happening in the books, then you can count me in as that's just a plain old great idea. I honestly never even really thought about that when I watched the '90s Marvel set of 'toons, but it just makes good sense to run the cartoons with timely subject matter that almost ties into the comics- not to mention that it seems like it'd be a lot of fun.
Marvel's most popular super hero, Spider-Man, swings into a new season in "Marvel's Ultimate Spider-Man: Web Warriors," premiering SUNDAY, AUGUST 31(9:00 a.m.) on the Marvel Universe programming block on Disney XD. Accompanied by Nova, Iron Fist, Power Man and White Tiger, Spider-Man and the team take on dangerous S.H.I.E.L.D. missions and encounter some of their most thrilling adventures yet.

The new season begins with Spider-Man accepting an invitation to become an Avenger. Alongside Iron Man, Captain America, Thor, Hulk, Hawkeye, Black Widow and Falcon, everyone's favorite web-head gets one step closer to becoming theUltimate Spider-Man!

Presented in a multi-episode story format, "Marvel's Ultimate Spider-Man: Web Warriors" not only pairs Spidey with the Avengers, but introduces new heroes and villains from the Marvel Universe such as Agent Venom, a new Iron Spider Amadeus Cho, Cloak & Dagger, and Ka-Zar. Additionally, for the first time in animation history, Miles Morales teams up with Spider-Man for a new adventure and he's not the only Spidey that Peter Parker will encounter in this action-packed season.
Look for the new season of Marvel's Ultimate Spider-Man: Web Warriors to swing onto the Disney XD channel on August 31st.