In case you haven't heard, a sequel to Pushmo known as Pushmo World is coming to the Wii U. It will be heading to the eshop June 19th.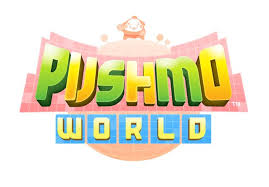 The first Pushmo was widely popular, and resonated with a lot of people; it came out for the Nintendo 3DS in 2011. It's a simple yet challenging puzzle game where the object is to pull and push parts of a giant structure in order to make your way to the top. The game is similar in nature to Atlus's Catherine, only you aren't just working with blocks, and the puzzle doesn't slowly crumble away over time. Arguably the most fun and replayable feature of Pushmo is its level editor, which allows you to make just about anything. It's sort of like pixel art, piecing together rectangles, squares, etc. in order to form images or just generic puzzles; You can also upload your puzzles and download others.
It's perhaps one of Nintendo's most creative original IPs in the last few years, and its sequel is coming to the Wii U eshop next month. Like the first game, Pushmo World includes a level editing tool and rewind feature; a nice little addition to this sequel is a central hub where players can download and share puzzles. Pushmo will be going for $9.99 and comes out June 19th.