Bethesda announced the official release date for The Evil Within today, along with a pre-order incentive called The Fighting Chance Pack.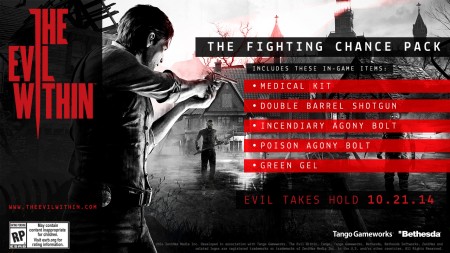 Originally set for an August 2014 release, the new survival horror title from Resident Evil creator Shinji Mikami will now be hitting the shelves in late October, on the 22st in North American, the 23rd in Australia, and on the 24th of the month throughout Europe. Yes, that's pretty much two months later then it was originally announced to be released, but unlike some other games that recently saw delays, at least it'll be making it out and onto consoles and the PC this year.
Basically, the game needs a little more polish and time in development to get it where the famed director wants it, and I don't think there are too many people who'll complain about that. It also lands the release incredibly close to Halloween, which is some very nice timing indeed considering the subject matter in The Evil Within.
Helping you and main character Sebastian stay alive when the game does finally come out will be the Fighting Chance pack. This pre-order incentive pack (available when you pre-order the game now) includes some nice little bonuses for gamers looking to bring the pain to the otherworldly weirdos inhabiting the world of The Evil Within.
The pack includes:
Medical Kit – A vital health enhancement to enable Sebastian to fight on.
Green Gel – Used to upgrade Sebastian's attributes.
Double Barrel Shotgun and Three Shells – A larger and more formidable shotgun than the regular shotgun, it's useful for tight situations with multiple encroaching enemies.
An Incendiary Agony Bolt – Capable of showering nearby enemies with damaging fire sparks.
A Poison Agony Bolt – Will draw enemies towards it and poison them, allowing Sebastian time for a quick escape.
And just to give you a taste of what you'll be in for they coming October on the Xbox One/360, PS4/3, and PC; here are some fine play-testers getting the pants scared off them, courtesy of The Evil Within.